Spain not sure about success in legal challenge of Gibraltar waters
Friday, December 13th 2013 - 12:18 UTC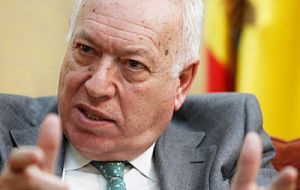 Spanish Foreign Minister Jose Manuel García-Margallo has expressed confidence that Madrid would win a legal case over jurisdiction of Gibraltar's isthmus, though he was less certain about success in any challenge over the waters. He said the isthmus was not ceded to Britain under the Treaty of Utrecht and "illegally" occupied, but that Spain had yet to decide whether to "legally reclaim it or not".
"If we resort to the court in the Hague, or to the tribunal of the law of the sea or any other court, I'm convinced we would win on the isthmus but on the waters we would have to see," he reportedly said during a speech at the Universidad Pontificia de Comillas.
García-Margallo also said Spain was "winning" in the dispute over Gibraltar, adding that the UK "made a mistake" in asking the European Commission to investigate Spanish controls at the border with Gibraltar.
The Spanish minister reflected on the fact that the EC had found that Spanish checks were not unlawful, though he failed to note that Brussels officials had also found that their intensity – at least on vehicles heading to the Rock – was not justified.
García-Margallo also expressed satisfaction with the joint declaration agreed with the UK at the UN this year and insisted that when it came to sovereignty, "this is a conversation for grown-ups".
The minister said Spain must decide now whether to keep pushing for bilateral sovereignty talks at the UN, as it has been doing. García-Margallo described the previous PSOE government's policy toward Gibraltar as "the worst" possible and said the Spanish Government was now "trying to get the paste back into the tube".
And commenting on allegations of smuggling and tax evasion here, he added that "all the mafias in the world have passed through Gibraltar".