Brazilian economy walking on "two crippled legs" argues Minister Mantega
Monday, December 16th 2013 - 09:30 UTC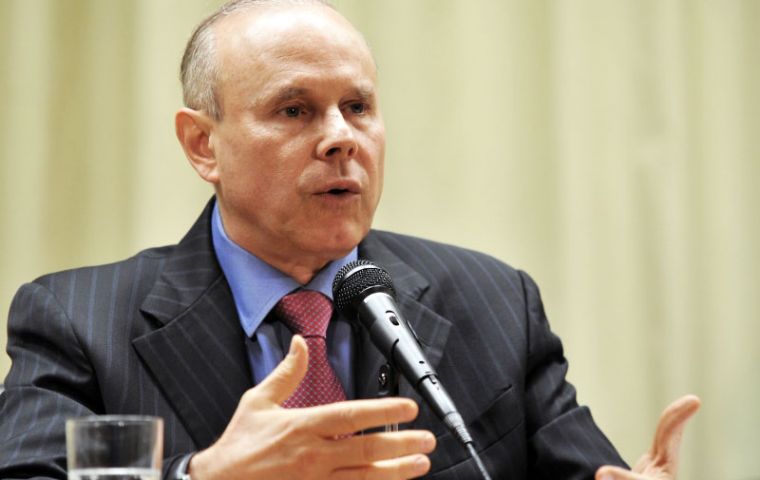 The Brazilian economy is walking with "two crippled legs" according to Finance Minister Guido Mantega who put the blame on the effects of the international slowdown with different rates of recovery, and the lack of credit to prop consumer spending.
"The low growth of the global economy, particularly in developed countries has become an adverse wind for the performance of the (Brazilian) economy, as well as a higher rate of delinquency which has made banks more cautious about new loans and thus limiting domestic demand", said Mantega during a meeting with industry barons in Sao Paulo.
"This means the Brazilian economy is walking on two crippled legs: on the one side contained and scarce consumption credit, and on the other the international crisis which is stealing us of growth chances".
But the minister also pointed out that the delinquency rate was down and there are signals of global recovery, which together should help the Brazilian economy to retake solid growth.
At the meeting the minister told the audience that the subsidized interest rate program to prop investment will continue in 2014 but at higher rates, since the Treasury needs to support a balanced budget and the promotional rates are below market level.
Mantega added that the variation will have the purpose of accompanying the increase of the basic Selic rate, but rates will still be lower. Loans for the purchase of trucks, buses and machinery will increase from 4% to 6%; innovation investment from3.5% to 4% and financing exports, 5.5% to 8%.
Mantega also announced that tax revenue in November was above 110bn Reais, the highest for any month in the year, mainly because of a plan with incentives to collect pending fiscal debts.
The minister also replicated to criticism about the budget's primary surplus, recalling that the government had sacrificed revenue to stimulate the economy, help with cost reductions and support investments. (Primary surplus does not include debt payments as opposed to fiscal surplus).
The statement follows a similar position expressed by Central bank president Alexander Tombini addressing a congressional committee who underlined that: "the higher the fiscal surplus, so much better".
However the primary surplus set out for this year was 111bn Reais, but in October the accumulated surplus, including the Union, states and cities, stood at 51.2bn Reais, which means 64bn Reais short of the annual target.