Chile/Peru maritime dispute: International Court of Justice verdict January 27
Monday, December 16th 2013 - 10:37 UTC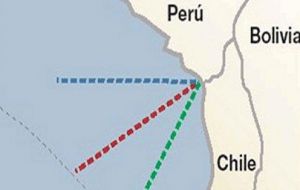 As the International Court of Justice is set to release its final verdict in January, Peru announces plans to build a new settlement less than a mile from the Chilean border. After years of tribulation, an end is finally in sight for a maritime dispute between Chile and Peru, with The Hague to announce its verdict on the case Jan. 27.
Both countries have agreed to honor the International Court of Justice's (ICJ) decision resolving Peru and Chile's decades long battle for sovereignty over disputed Pacific waters and relations between the neighboring countries remain strong.
In response to The Hague's announcement Friday, the Chilean Foreign Affairs Ministry expressed its confidence in the international court's decision.
"The government of Chile calmly waits for the decision that will be dictated by the International Court, continuing in its tradition of respect for international rights," the statement said.
The maritime dispute, dating back to the 1950's, was presented to the ICJ by Peru in January 2008. With the court in its final days of deliberation, both governments have agreed to honor the ICJ's decision, regardless of the outcome.
Peruvian claims that their sovereignty in the Pacific Ocean diagonals down past the Chilean land border has historically sparked controversy with Chilean authorities, who assert a horizontal border should extend into the ocean.
Meanwhile plans for a border settlement to be built along the southern edge of Peru were announced by the Peruvian Housing Ministry on Tuesday. The border settlement, which will be called Santa Rosa Concordia, will be built in the territory of Tacna, and is expected to bring approximately 11,000 people to the area.
Carlos Pareja, Peruvian ambassador in Chile, is hopeful the new settlement will attract business to the region and improve trade transactions across the border.
"The idea is that companies can base themselves there," he told a Santiago radio station. "This border area has a lot of business potential."
While settlement plans are located firmly on Peruvian territory, Chilean media has raised concerns that population densification in the extremely arid area could create water shortages if the new settlement were to draw on the Concordia wells legally shared by Peru and Chile.
Aquifers from the Concordia reservoirs are currently being built on the Chilean side to supply the agricultural project Pampa Concordia in the same region.
However, settlement planners claim the new settlement will source its water from the Yarada reservoirs, which currently supply agricultural areas in Tacna, and so avoid a water dispute in the arid border lands.
In the early stages of the border settlement's plans, district attorney of the Tacna Region in Peru, Ponce Begazo, raised his concerns that the development of a city center on the border could compound migration issues and raise rates of human and contraband trafficking.
By Emily McHugh - The Santiago Times