UK claims Argentina escalating Falklands dispute to divert public opinion from economic problems
Thursday, December 19th 2013 - 06:25 UTC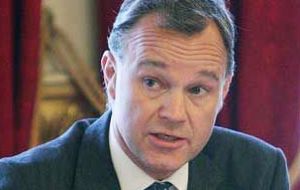 Britain accused the Argentine government on Tuesday of revving up a dispute over the sovereignty of the Falkland Islands to try to divert public opinion attention away from the country's severe economic problems.
Tensions in the decades-old feud are running high ahead of 2015 elections due in both countries and have been stirred by a row about over whether Argentina has the right to implement domestic legislation on oil and gas firms drilling in the Falklands waters, which Buenos Aires considers integral part of the continental territory.
Foreign Office minister Mark Simmonds told a parliamentary committee on Tuesday that the spat was being used by Argentina's government to distract voters from domestic financial problems.
"I certainly believe that part of the Kirchner government's rhetoric is to try and create a distraction to the ... huge economic problems they have in Argentina," Simmonds said, referring to the administration of President Cristina Fernandez.
Argentina which is Latin America's third largest economy, has long-term high inflation, dwindling foreign currency reserves and in December suffered a rash of police strikes, and extended looting with a balance of at least 13 deaths and tens of millions of dollars in damage to private and public property.
The Falkland Islands are classed as a British Overseas Territory, which was confirmed in a March referendum with an overwhelming support but Argentina also lays claim to them.
More than three decades after Argentina invaded and was ousted from the Falklands, the sovereignty debate elicits a nationalistic reaction from voters in both countries.
Although it was unusual for a minister to voice the sentiment, the Foreign Office said Simmonds' remarks were consistent with the government's views on Argentina.