Argentina threatens to nationalize power companies because of the blackouts
Friday, December 20th 2013 - 05:49 UTC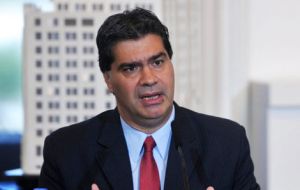 Argentina on Thursday threatened to nationalize utility companies Edenor and Edesur after power outages left large areas of the capital Buenos Aires and surrounding suburbs in the dark, just ahead of the austral summer. "If they are not willing to give people the service they deserve, we will be willing to take over that service," said cabinet chief Jorge Capitanich.
Edesur is controlled by Endesa SA, a subsidiary of Italy's biggest utility, Enel SpA. Edenor is owned by the Argentine company Pampa Energia .
Shares of Edenor ended 15.1% lower at 2.3 Pesos in Buenos Aires on Thursday.
The government of President Cristina Fernandez has expropriated several companies during her six years in office, including a water company, the oil company YPF and the country's biggest airline, Aerolineas Argentinas.
"Just as we did with Aerolineas Argentinas ... and YPF, we will not hesitate to make the decisions required if the companies Edenor and Edesur do not restore electrical supplies immediately," Planning Minister Julio de Vido was quoted as telling the state news agency Telam.
"We have urged the companies which provide the service to restore it," he said. "We received the presidential order to inform them about the need to immediately find a solution to the problems users are suffering in different areas" Capitanich said.
He underlined the government "expressed its concern and enormous anger amid the lack of answers to 2.5 million electricity users."
The energy sector in Latin America's third-biggest economy has been beset by years of limp private investment, surging demand and frozen rates.
Many analysts say government-imposed energy prices, held nearly flat since the country's 2001-02 financial crisis despite high inflation, have hurt the sector.
The government said in November that it would raise fees to fund upgrades, and that utility companies would not benefit.
Blackouts are common in Buenos Aires in summer months when electrical demand spikes with temperatures, often drawing residents into the streets for protests.