FIFA calls on Brazil to work flat-out in the months ahead of World Cup June 12 kick-off
Thursday, December 26th 2013 - 07:37 UTC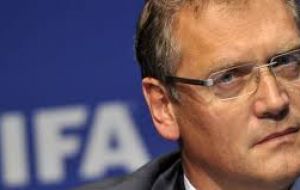 FIFA secretary general Jerome Valcke says there is a huge amount still to do in preparations for the World Cup. In his end-of-year statement on FIFA.com, the Frenchman urges Brazil 2014 organizers to work flat out in the months before the June 12 kick-off in Sao Paulo to deliver on their promises.
"The clock is ticking ever faster and the level of anticipation is rising for all of us," he said. "None of us organizers – FIFA, the LOC, the federal government and the host cities – have the slightest cause to sit back and rest on any laurels. The finishing touches are crucial, and they need to be added in a number of areas."
Valcke noted that work at the six non-FIFA Confederations Cup stadiums was in the final stages – with the exception of Sao Paulo, where building work was delayed when two construction workers were killed on site.
The other five venues "will have hosted the first of at least three test events within the first three months of 2014".
"In addition, the temporary structures in all 12 stadiums need to be brought up to FIFA World Cup standards and sizes, to name but two of the many tasks still on the agenda," he said.
In the wake of several deaths on World Cup construction projects including those at Arena Corinthians, he added: "With all deadlines in mind, there will and have not been any compromises in terms of safety and security – a matter which is always top priority for workers, players and fans equally."
The FIFA No.2 said final confirmation of where the 32 teams would be based for their World Cup training camps would be known by the end of January. Some teams altered their proposals following the World Cup draw due to the distances between previously planned bases and their group phase matches.
A measure of the excitement being felt among Brazilians for the World Cup was in the ticketing applications, he said. More than 80% of the more than 2.1 million applications received during the current sales so far have been from local fans. The second sales phase closes Jan. 30.
After a hectic year, during which he has tried and failed to get the Brazil 2014 project on schedule – the stadiums were all due for completion by Dec. 31 – he is welcoming the Christmas break.
"While we all keep focused on the preparations, it is also time to recharge batteries over the holiday season," he said.
"2014 will be an intense but interesting year, particular the first six months which culminate in the highlight of the 2014 FIFA World Cup final tournament in June and July."
Valcke said he would be back in Brazil on Jan. 20 for check-ups on venues and host city plans in Sao Paulo, Manaus, Cuiaba and Rio.