Cristina Fernandez determined to decide on the incumbent candidate for 2015
Friday, December 27th 2013 - 00:16 UTC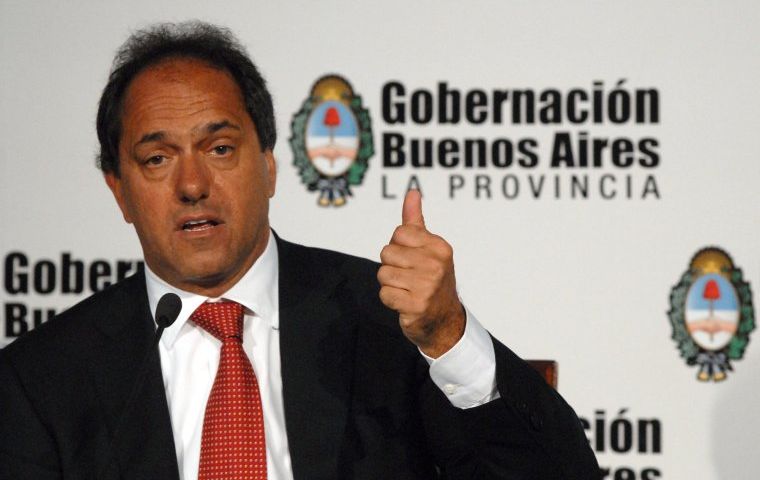 Argentine president Cristina Fernandez denied point blank any prospects of her running for office for a third consecutive period or any other elected post in the 2015 elections. Member of Congress Carlos Kunkel, considered an 'ultra-Kirchnerite' said on Christmas that at the end of her mandate "Cristina will continue in politics". However Cristina will apparently decide on the incumbent presidential candidate for 2015.
"What happens is that Carlos adores me", said the president, who emphasized there "is no chance of 'Cristina 2015' for any elected post".
Victory Front lawmaker Kunkel said on Wednesday that President Cristina Fernández in the 2015 elections would "still in politics and running as candidate". Kunkel did not say, however, what office she would be running for. "Ask me again in 18 months," he said.
Cristina Fernández, currently spending holidays in Santa Cruz with her family, has never openly supported the idea of amending the Constitution to run for a third presidential term, although staunch Kirchnerite ally Diana Conti has said in the past her intention was to do so.
Cristina Fernandez herself ruled out the possibility last year, before the chance disappeared completely, following the poor results in the October 27 midterms. But Kunkel's hint may indicate the president may run as a senatorial candidate — after all, Cristina Fernandez has represented two different provinces (Santa Cruz and Buenos Aires) in the Upper House.
The lawmaker is known for revealing key movements of the national government. He was, for instance, the leader who anticipated that Cristina Fernández would run as president in 2007, when she succeeded her husband, the late Néstor Kirchner.
Kunkel also anticipated that the ruling party is going to hold the long-delayed Justicialista Party (PJ) primaries next March and sent an indirect message to Buenos Aires province Governor Daniel Scioli, who has already announced his desire to run for the presidential office in 2015.
The lawmaker said he favored a "unity ticket" for both the party primaries of March, 2014 and the general primaries of August, 2015, meaning the national government wants Scioli to run for the same ticket as CFK.
Scioli is technically a Kirchnerite but has been at odds with the federal government during the last few years, ending on opposite sides over a series of differences which the governor calls "of style."
After a series of comings and goings, the BA province leader finally re-aligned with the FpV shortly before the June 22 deadline to register electoral tickets. But he has not resigned his presidential aspirations.
However Pablo Moyano, son of the anti-government CGT umbrella union leader Hugo Moyano and second-in-line in the powerful teamsters' union, also had something to say about the next presidential elections.
"Peronist candidates for 2015 are Scioli, (Córdoba province Governor José Manuel) De la Sota and (Tigre Mayor Sergio) Massa," he said and anticipated that the opposition CGT would likely support any of those three candidates in the upcoming elections.
"Any leader who attends the demands of the CGT regarding health insurance, income tax, pension increases and free wage bargaining will have our support" Moyano said.