Mujica admits relation with Argentina is "at a standstill": all depends on Cristina
Friday, January 3rd 2014 - 05:36 UTC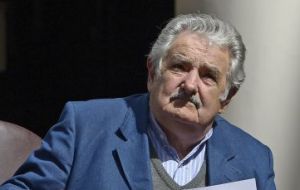 President José Mujica admitted that Uruguay's relationship with Argentina is "at a standstill", and suggested that improving relations was up to counterpart Cristina Fernández and her actions, since "I'm always open to dialogue".
"Relations with Argentina are at a standstill, but everything will depend on what the president decides," Mujica said in an interview on Thursday, while stating that he had not spoken to CFK for weeks.
However Mujica admitted that a meeting with the Argentine president could occur during this month's Mercosur Summit, which is set to take place on January 17 in new member nation Venezuela.
"We could speak there. We will exchange some things and we shall see," Mujica asserted, also clarifying that at the present time "there is no [bilateral] agenda arranged with Argentina."
Relations between Argentina and Uruguay have been strained in recent years by a dispute over the UPM-Botnia pulp plant on the shared and jointly managed Uruguay River, which Argentines claim pollutes, despite an international ruling to the contrary and regular water and air tests.
Mujica said he would be travelling to Caracas with the "same open attitude of always" and insisted that "we will have to find a way out" to the situation.
Bilateral relations have been frozen since last October when Uruguay authorized UPM-Botnia to increase its annual production to 1.2million tons which was rejected point blank by the Argentine government. There has been no chance to establish formal or informal contacts because a few days later Cristina Fernandez underwent cranial surgery and was only discharged from a strict convalescence and with limited activities in early December.
Mujica also mentioned the power outages in Argentina and regretted that Uruguay was not able to further support the neighboring country. He also recalled that when taking office (in 2010) 'bridges with Argentina' were broken and at all times "I tried to implement the only possible policy with Argentina and that is standing dialogue. But I must admit that chauvinism in Uruguay is strong, very strong".
Uruguay is also interested in talking trade with Argentina because since the latest incident, an already complicated situation has worsened. Cristina Fernandez trade and port policies, blocking Montevideo to Argentine exports, have made the relationship tenser.