Cristina Fernandez "working everyday" returns this week to Buenos Aires
Monday, January 6th 2014 - 19:51 UTC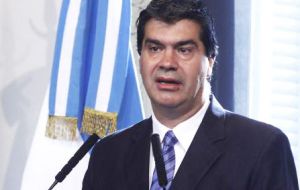 Argentine President Cristina Fernandez "works everyday" and is "complying with her constitutional responsibilities" said cabinet chief Jorge Capitanich on Monday responding to opposition voices that have criticized the leader who remains in the Patagonian city of El Calafate. He also announced that the president would be returning to Buenos Aires this week.
In his daily brief to the press at the Casa Rosada presidential palace, Capitanich stated the 60-year-old leader –who was forced to undergo head surgery back in October after she was diagnosed with a subdural hematoma-, continues to "decide and instruct" her ministerial team. "Technological advances allow us to be in permanent contact with the president".
Saying that the head of state is "in the Republic of Argentina" and that she can lead the government from "the Casa Rosada, the Olivos (presidential) residency or the city of El Calafate," the head of ministers explained Cristina Fernandez is indeed addressing key political and economic issues such as Argentina's debt negotiations with the Paris Club as well as the compensation agreement recently reached with Spain's Repsol following the nationalization of the now state-run energy company YPF in 2012.
"When she speaks, it is because she speaks, when she does not, then because she does not speak. When she is present, because she is present and when she is not, because she is not present. A President is a human being who deserves to rest, who is in a process of health recovery," the cabinet chief insisted.
"The president is making decisions all the time, sending instructions, giving us the framework for policies; she's all the time busy in a multiplicity of issues, some with media coverage, others with not", explained Capitanich.
The cabinet chief also confirmed that President Cristina Fernandez will be flying back to Buenos Aires this week and has a public ceremony scheduled for Wednesday.
Finally Capitanich revealed that the Argentine president would be travelling at the end of January to Cuba and Venezuela for the Celac and Mercosur summits respectively and confirmed that the postponement of the Mercosur meeting was agreed by all of group's members.