Expectation: Cristina Fernandez is back and is scheduled to address the situation
Wednesday, January 8th 2014 - 04:56 UTC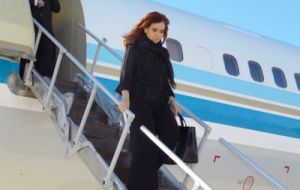 Argentine President Cristina Fernández resumed on Tuesday her official activity in the Government House, after spending 18 days with her relatives in the Patagonia province of Santa Cruz. She arrived in Buenos Aires late Monday night and is scheduled to make a public appearance on Wednesday.
According to the official news agency Noticias Argentina, Cristina Fernández left the Olivos residence and flew back to the City of Buenos Aires late Tuesday afternoon where she held meetings with Cabinet Chief Jorge Capitanich, Planning Minister Julio De Vido, General Secretary of Presidency Oscar Parrilli and the Legal Secretary Carlos Zannini.
Later she also met with Economy minister Axel Kicillof and the head of the tax office, Ricardo Echegaray and by nine o'clock was returning to the Olivos residence.
However it is believed that on Tuesday morning before flying to Casa Rosada, Cristina Fernandez also held a round of meetings specifically with Parrilli, probably the official with greatest influence at the moment and cabinet chief Capitanich.
The head of state is expected to reappear in public on Wednesday and could announce a modification on the Universal Child Allowance.
If the president effectively does speak, there is great expectation since during the long absence she was silent about the prolonged power outages suffered by Buenos Aires City and metropolitan Buenos Aires residents, which triggered spontaneous protests with pot-banging and bonfires in corners and pickets in the main highways leading to the Argentine capital.
Cristina Fernandez also came under strong criticism from the opposition because of her silence during Christmas and New Year, when traditionally there is a presidential message.
Back in October, the president was forced to undergo head surgery after she was diagnosed with a cranium blood clot. The recovery process involved almost no rallies or meetings at the Casa Rosada presidential palace and no flying. However after being discharged the president did head the celebrations marking the 30th anniversary of Argentina's return to democracy in December.
Following criticism by some opposition members who questioned CFK's absence, the head of ministers Capitanich said on Monday that "the president is working everyday at the front of the national government" and is "abiding with her constitutional responsibilities".