Argentina denies it is blame for delay in Mercosur/European Union trade talks
Saturday, January 11th 2014 - 08:24 UTC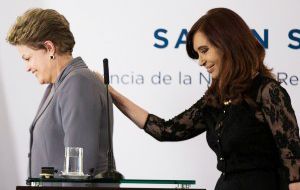 Argentina's Foreign Ministry refuted an article by Brazilian newspaper Valór Económico reporting that negotiations between Mercosur and the European Union had been delayed by the failure to reach agreement with Argentina over a joint proposal of goods to include in a free trade agreement
"Argentina comprehensively denies the biased article published by Italian agency ANSA (originally by Valór Económico)," the news release opens, proceeding to counter the claim by contending that "the delay of the meeting scheduled for December, as Brazilian Foreign Minister Luiz Alberto Figuereido announced, was down to the request by European Commissioner for Trade Karel De Gucht to Figuereido at the World Trade Organization's ministerial summit in Bali" Indonesia.
Indeed, on December 12, Cabinet Chief Jorge Capitanich told journalists of his surprise at such a request by the EU, which came as a new setback to negotiations dating back to 2010, when talks, which actually began in the 1990s were resumed.
Last year was meant to finally be one for progress, as the trade blocs faced a December deadline to present their proposals.
Tension over the sluggish nature of negotiations have been marked by flying accusations of protectionism back and forth, which the Foreign Ministry resurfaced: "Argentina reiterates its profound concern over the escalation of European protectionism, as is the case in anti-dumping policies on Argentine biodiesel, or the unilateral termination of benefits associated with the Generalized System of Preferences, which have deepened the traditional scheme of tariff and non-tariff restrictions that the European Union applies to our countries."
"The Argentine Republic has met all the commitments taken up by the partners in the framework of this negotiation and has an ambitious offer in terms of goods, services, investments and government purchases," the release states.
One of the peaks in tension between Argentina and the EU came in December of 2012, when De Gucht blamed "Argentina's behavior" for the lack of progress in negotiations.
Proceedings have stumbled repeatedly over disagreement about Mercosur access to European manufactured goods and EU access to Mercosur agricultural products due to high European farm subsidies.
The main contention by Valór Económico refuted by minister Timerman is that the Brazilian government failed to engage in bilateral talks with the Cristina Fernández administration over the presentation of a single list.
Moreover, the article cited a Brazilian proposal to eliminate tariffs for up to 87% of products imported from the EU, contrasting Argentina's alleged offer of 80% liberalization.
According to the newspaper, the issue could be discussed by Brazilian President Dilma Rousseff and her Argentine counterpart at the Mercosur summit in Venezuela on January 31.
The article also played down rumors that Brazil has become exasperated with the alleged Argentine obstacle and could proceed to establish an FTA with Europe on its own.