Paraguay plans to climb from eighth to world's fifth exporter of beef by 2018
Monday, January 13th 2014 - 07:09 UTC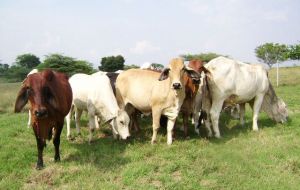 One of Paraguay's priorities is to make the country the world's fifth exporter of beef by 2018, according to Industry and Trade minister Gustavo Leite. The land locked member of Mercosur currently holds the eighth position.
"But we also want Paraguay to become the world's third per capita consumer of beef (behind Uruguay and Argentina), because let's not forget that Paraguayans love to eat beef and love their barbecue", added Leite.
The minister revealed that the plan is based on incorporation an estimated 120.000 small cattle farmers to a national production program, applying modern technology and sanitary practices.
Last year Paraguay exported 1.33 billion dollars in meat products. Together with soybeans, beef is one of the two main export items of the country. Paraguay figures as the world's fourth exporter of soybeans.
The surge of agriculture and livestock last year, after suffering a prolonged drought and sanitary problems, helped the country's economy expand a record 13.6%, the best performance in Latin America.