China becomes the leading market for Uruguayan meat exports
Tuesday, January 14th 2014 - 07:50 UTC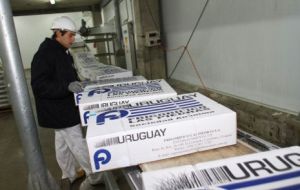 Uruguay's meat exports slid 6.5% in volume during 2013 compared to the previous year, but the big news is that China has become the main client for beef, followed by Nafta countries, (US, Canada and Mexico), according to the latest release from the country's National Meat Institute, INAC.
Regarding beef which represents 80% of all Uruguay meat exports, last year overseas sales were down 7% in dollars and in volume. On the other hand lamb and mutton soared 24% in dollars and 29% in volume, compared to 2012. However ovine meat only represent 6% of all Uruguayan meat exports.
The increase in lamb and mutton can be attributed to the opening of the US market for Uruguayan produce, a successful ending for eight years of negotiations.
Regarding the main buyers, as said above the big news is that China leads, displacing Nafta, the European Union, Russia and Mercosur. China took 26% of all Uruguayan meat exports.
According to INAC in 2013, meat exports and sub-products totaled 418.123 tons equivalent to 1.665 billion dollars. Likewise the number of cattle head slaughtered last year to 28 December reached 1.973.990, which represents a 5% drop compared to 2012.
As international meat prices tend to flatten, a conflict is growing between Uruguay cattle farmers and the abattoirs. With a good spring rainfall and abundant pasture, farmers are not willing to sell at the prices offered by abattoirs (mostly in the hands of Brazilian groups), and the supply of some popular cuts such as barbecue have fallen.
Uruguayan president Jose Mujica in his daily radio chat has warned about the growing Chinese dependency of Uruguay's foreign trade. In effect, soybeans and beef are among the main export produce of the country and the leading buyer is China. The same situation is extensive to wool.