US dollar reaches new record in Argentina, 11.25 Pesos
Thursday, January 16th 2014 - 09:22 UTC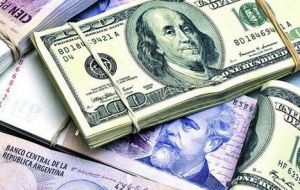 The US dollar in Argentina continued to climb on Wednesday and reached new highs both in the official market and in parallel trading or the 'blue market'. The official rate closed at 6.75 Pesos to the greenback while the 'blue' reached a record 11.25 Pesos (selling price) with a 66.5% gap between both markets.
The price of the US dollar has been climbing steadily since 2 January. Argentine tourists looking for dollars for their overseas vacations and simple speculators who feel the price will continue to soar as the government of President Cristina Fernandez is unable to control budget expenditure and inflation devours the value of the currency.
Likewise until the summer crops are in (March/April) there is no strong influx of export dollars to the Argentine Central bank. According to grains and oilseeds export chambers, last year overseas sales represented 23.161bn dollars which compare favorably with the 23.07bn of 2012.
Meanwhile in Uruguay, a favorite place for Argentines to spend their summer holidays, dollars can be purchased but at prices ranging from 12 to 16 Argentine Pesos.
In related news on Wednesday also Argentina's discredited stats office Indec published the final figures for the twelve months of 2013, with inflation in December 1.4% and overall 10.9%.
These numbers are less than half than the so called Congressional index, an average of private consultants estimates, which on Tuesday announced that the CPI in December was up 3.3% and in the twelve months, 28.3%.