Argentine squid exports increased 84% last year compared to 2012
Sunday, January 26th 2014 - 11:56 UTC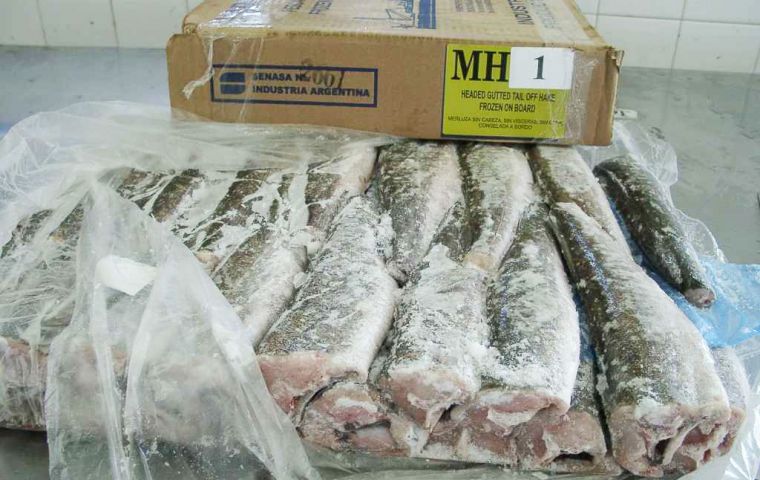 Argentina fisheries exports reached 441,255 tons in 2013, up 19.6% over the previous year when 368,915 tons were shipped abroad. Among the items with outstanding performance figures squid with over 100.000 tons and 84% higher than in 2012, according to the official stats from Argentina's Senasa, National Health and Food Quality Service.
Fish exports totaled 249,940 tons, 5.2% more than in 2012 (237,561 tons), while seafood reached 191,315 tons which was 45.6% higher than the previous year with 131,354 tons.
The main export item was hake (Merluccius hubbsi), with 121,017 tons, 10.1% more than the 109,881 tons exported in 2012. This was followed by squid (Illex argentinus), with 101,171 tons, 84% more than in 2012 (54,966 tons), and shrimp (Pleoticus muelleri), 81,276 tons, up 20.3% from the 67,515 tons of the previous season.
Other resources that increased their shipments is the Patagonian anchovy (Engraulis anchovy), with sales up 5.5%, from 9,038 tons in 2012 to 9,537 tons last year.
White-mouth croaker (Micropogonias furnieri) exports reached 41,441 tons against 35,950 tons the previous year (up 15.2%); short-tailed stingray (Potamotrygon brachyura) rose slightly from 5,542 to 5,693 tons (2.7%), and weakfish (Cynoscion striatus) from 14,173 to 15,142 tons (up 6.8%). Likewise Patagonian scallop (Zygochlamys patagonica) exports totaled 5.518 tons compared to 5.369 tons, which meant an increase of 2.7%.
Among the species that recorded declines when comparing 2013 with 2012 are Argentine hoki (Macruronus magellanicus), down 12.9% (from 14,475 to 12,620 tons) and golden kingclip (Genypterus blacodes), down 28% (from 3,595 to 2,590 tons).