HMS Portland begins her Atlantic deployment visiting England's centuries old ally Portugal
Tuesday, January 28th 2014 - 19:48 UTC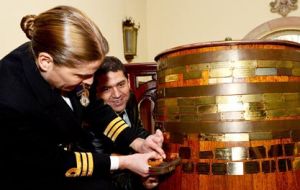 HMS Portland has called into the Portuguese capital, the first stop of her Atlantic deployment that will take her to the Falkland Islands, South Georgia.
During the visit the Commanding Officer participated in a traditional ceremony to celebrate the United Kingdom's enduring friendship with Portugal, the ship also hosted a visit by senior NATO officers, and the football team enjoyed a match against the Lisbon Crusaders.
Lisbon is home to the Maritime Analysis and Operations Centre (Narcotics), which is an international organization of European nations, including the UK, responsible for tackling drug trafficking. Experts from the centre briefed the ship's command team on her forthcoming counter narcotics mission.
Celebrating the United Kingdom's lengthy relationship with Portugal, (The Anglo-Portuguese Treaty was signed in 1373), the Commanding Officer, Commander Sarah West followed the tradition of nailing a brass plaque bearing the ship's name onto a barrel of rum.
Following this, a delegation from the NATO Naval Striking and Support Forces, (STRIKEFORNATO), led by the Deputy Commander of STRIKEFORNATO, Rear Admiral Tim Lowe visited HMS Portland for a briefing on the ship's capability.
As part of the visit the group toured HMS Portland and also enjoyed a traditional English meal of fish and chips.
Rear Admiral Lowe said: "HMS Portland is an extremely capable warship and I wish her well on her forthcoming deployment."
On sailing from Lisbon, the ship conducted an exercise with the Portuguese ship NRP Corte-Real. As part of this exercise HMS Portland hosted Portuguese sailors, whilst a number of Portland's sailors were able to experience an afternoon at sea on the NRP Corte-Real. (RN news)