Hedge fund boss Singer rejects as 'bizarre' Argentine bondholders offer
Wednesday, January 29th 2014 - 21:36 UTC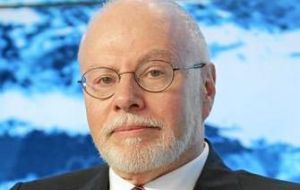 Paul Singer, head of Elliot Management Corp., defined as "bizarre", the bondholders' offer to resolve judicially the dispute with Argentina over the debt in default from 2001, during in a letter sent to investors and published by Bloomberg News.
"The proposal is beyond bizarre and impracticable", Singer wrote, as he insisted to negotiate directly with the country."It is a stunt", he assured.
Meanwhile, Steve Bruce, speaker of Gramecery investment group, hedge fund responsible for the proposal refused to comment on the matter.
During a video interview with the Wall Street Journal on Saturday, Singer described Argentina's public policy as "horrendous" and stated that he could settle the dispute "in an afternoon."
On Friday, according to Noticias Argentinas news agency, around 20 international investment funds who own about seven billion dollar in bonds of Argentina' debt are considering to cede a portion of it back to the hedge funds.
In exchange, according the agreement, the so called 'Vulture Funds' who rejected the debt restructuring process in 2005 and 2010 should desist from their demands and enter into the debt swap.