Mujica admits that with Argentina 'nothing is guaranteed, only change, one way or the other'
Friday, January 31st 2014 - 07:04 UTC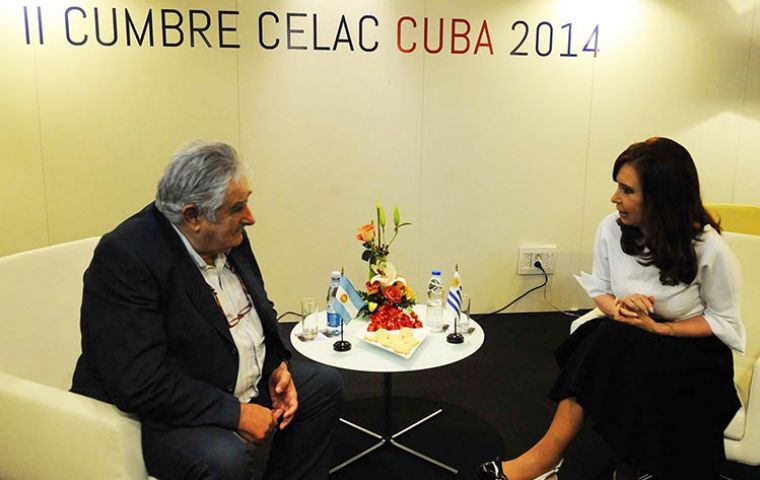 Uruguayan president Jose Mujica said there is 'nothing guaranteed' in the coming talks with Argentina over a long list of bilateral issues, in reference to his meeting on Tuesday with president Cristina Fernandez in Cuba on the sidelines of the recent Celac summit. Mujica was interviewed by a Uruguayan television channel.
"We could say that we agreed to exchange the methodology of what we must apply in this process. For example we agreed no public statements among at least the top ranking officials. That is something we agreed on", said Mujica in reference to the forty minute meeting with his Argentine peer and delegation.
On Wednesday Uruguay and Argentina foreign ministers Luis Almagro and Hector Timerman, informed that both countries had agreed to resume in the next few days the bilateral dialogue which was suspended for over three months because of differences over a controversial increase in production in a pulp mill located in Uruguay, and Cristina Fernandez health problems.
Specifically asked if a change can be expected from Argentina regarding the current attitude, Mujica replied strongly, "there's nothing I can guarantee" and then added "the only definitive law I have learnt from life is that all changes. That change is permanent".
But, "change can work one way or the other".
Meanwhile in Buenos Aires the media published extracts of an interview with Foreign minister Timerman during the recent summit in Havana in which the Argentine official rejects versions alluding to a conflict between Buenos Aires and Montevideo emphasizing bilateral ties are "appropriate and deep."
"The relations between Argentina and Uruguay are good, much deeper than what some media headlines say and it could not be another way because we are neighboring countries that live together and whose people are integrated," the minister said also considering a conflict scenario "ridiculous."
Timerman was queried about the current stance of relations with the administration of Uruguay's Mujica whose ministers have complained about Argentina's economic agenda, even raising questions about the future of the Mercosur trade bloc.
Bilateral tensions also tightened with an environmental dispute that dates back to 2005 and escalated last year with the authorization granted by Mujica's government to the UPM pulp mill to increase its production. The pulp mill although on Uruguayan soil, is next to the shared and jointly administrated River Uruguay from where it extracts much water which is then dumped back again allegedly un-polluted.
"There is a very important economic integration and besides thousands of Argentineans live in Uruguay and thousands of Uruguayans live in Argentina," Timerman pointed out.
"We will sit at a table and talk and treat all the matters that Uruguay wants to discuss with Argentina and all the matters Argentina wants to discuss with Uruguay, but there is no conflict," Timerman insisted.
The photos of the presidential meeting next to a small table with the two flags showed both leaders apparently relaxed and smiling, quite different from the tense situation three months ago the last time Mujica and Cristina Fernandez talked during the inauguration of the latest ferry that links Montevideo with Buenos Aires.
Furthermore only a week ago minister Almagro publicly stated that with Argentina, "the roof has collapsed, it's all rotten", following on Uruguay's decision authorizing the UPM pulp mill to increase production. Even when Uruguay demanded an improvement of the environmental performance of the pulp mill.
Strangely enough the Argentine delegation present at the talks with Mujica included the governor of Entre Rios province, Sergio Urriburi, the most fierce critic of the Uruguayan pulp mill. Nevertheless Urriburi had a picture taken standing in the middle of the two presidents and with a hand over Mujica's shoulder.
The bilateral agenda to be addressed includes mainly trade, cargo transshipment and canal dredging among others. Trade because since the authorization for UPM to increase production Argentina has been blocking Uruguayan exports and delaying the imports sworn statements. According to Uruguayan sources over 30 million dollars in goods have been delayed by Argentine customs.
Another very serious issue is transshipment of Argentine exports through the port of Montevideo. The Cristina Fernandez administration has privileged Argentine ports and Mercosur flagged vessels, which leaves Montevideo out. This is high season for Argentine Patagonia exports (fisheries and fruit) through the port of Montevideo, but transshipment activity of containers has plummeted 40%.
Uruguay's First Lady and Senator Lucia Topolansky, who usually speaks for her husband, admitted candidly that the main problem with Argentina is impeding the transshipment of Argentine cargo in Montevideo.
Finally there is the ongoing problem of dredging canals which facilitate access to Uruguayan ports, but since the River Plate is jointly managed, there is the need of Argentina's consensus, which is not immediately forthcoming or simply delayed.