"It is not clear where the Argentine government is heading or who is in charge"
Tuesday, February 11th 2014 - 23:44 UTC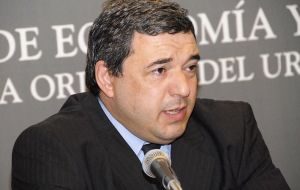 It is not clear where the government commanded by Argentine president Cristina Fernández is heading to, Economy Minister of neighboring Uruguay Mario Bergara affirmed saying the economic ups and downs in Argentina have deeply impacted on Uruguayan exports, tourism and real estate activities.
In an article published in the El País daily of Montevideo, Bergara stated that "it is not very clear who is in charge of" Argentina's economic policy neither which is "the logic of conduction." Buenos Aires "is no longer Uruguay's main connection," he added but explained that the current state of the bilateral relation should not be turned into a "drama."
"It is correct to keep attention and concern, to address the punctual issues that must be addressed regarding the situation in Argentina. But it should not be taken to a drama-like situation."
"What happens when an important neighbor with which you have consumer relations, and is currently in a situation of high volatility or lack of clear direction?", asked Bergara. "The solution is not to follow on him, you have to wait and see when there is a clearer notion of where stabilization in Argentina will be coming".
"Argentina is important for Uruguay but we can't have it as a reference for decisions in the macroeconomic field", added the minister.
Bergara argued that the current situation is no parallel with what happened in 2002, when Argentine contagion, plummeted Uruguay into a dramatic situation. "Currently Argentine deposits in the Uruguayan banking system total 9% compared to 40% in 2002. Furthermore "10, 12 years ago a fourth of goods exported by Uruguay went to Argentina, and that is now down to 5%".
Regarding tourism, which in Uruguay is mostly from Argentina, Bergara admitted there was a drop in the number of arriving tourists compared to 2011 and 2012, record years with 3 million people arriving. But in 2002 the number was 1.8 million, "so if this season we're down to 2.8 million we are in a different situation but not dramatic".
Bergara however admitted that what has come as a blow for Uruguay "are Argentina administrative or political decisions which interfere with local operations, exports, even less tourists and lesser people interested in investing in real estate".
Only three weeks ago the head of the Economy Ministry Macroeconomic Office, Andrés Masoller said that "bad news in Argentina always end as bad news for Uruguay. Even when lately we have diversified our markets and diminished our exposure to that market, Argentina remains as a relevant trade partner particularly regarding services.