Uruguay has an important role to play in promoting better relations say visiting delegates to Falkland Islands
Thursday, February 13th 2014 - 23:05 UTC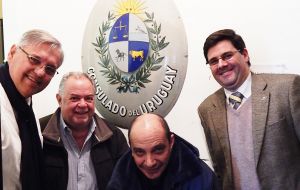 The cross-party delegation of Uruguayan parliamentarians currently visiting the Falkland Islands appear quite unmoved by what their leader Jaime Trobo described as the "dust storm" that their visit had created both at home in Uruguay and in neighbouring Argentina.
At a press conference in Stanley on Thursday morning, Deputy Trobo (National Party), who is making his third visit to the Islands, said that he and his four colleagues: Fitzgerald Cantero (Colorado Party), Daniel Mañana (National Party) and Daniel Radio (Independent Party) represented fifty percent of the Uruguayan population.
The other fifty percent were represented by the ruling Broad Front Alliance, one of whose representatives had been part of the delegation and had taken part in the preparations for the visit. Unfortunately, at the last minute, due to political circumstances within his party, Mr Jorge Pozzi had decided not to take part. However he had asked that his warm greetings be conveyed to the members of the Falkland Islands Assembly and that the other members of the delegation should convey his personal interest in knowing more about the Islands and promoting cooperation at all levels.
Deputy Cantero that he was honoured to be in the Islands where they had enjoyed an intensive experience. The delegation had various objectives, but the first was an exchange of understanding between the two countries, something which was more difficult to do from a distance. Then there were a number of common objectives, centred around tourism, commerce and agriculture, apart from the possibility of bringing together neighbouring nations in the same geographic zone.
It was impossible to forget the political objectives, said Deputy Cantero. Uruguay had a long relationship with the Islands and historically the first overseas port of call for the Islands was always Montevideo. There were many Uruguayans who would like to see that old relationship renewed.
Enlarging on this theme of neighbourliness, Mr Trobo said that if the delegation were to be asked what they dreamed of, it would be to able to board an aircraft in Montevideo and to find themselves two and a half hours later walking along the Stanley waterfront, with the same possibility existing in the opposite direction for Islanders. The delegation was going to work to make this dream a reality.
Asked whether this dream was one shared by others in Uruguay, Mr Trobo said that a serious study of public opinion recently carried out in Uruguay had revealed that eighty per cent of Uruguayans looked forward to an intensive exchange with the Islands and favoured the present visit of their parliamentarians.
Mr Trobo continued that during the delegation's meetings with a wide range of officials, and representatives both of the government and the private sector, the idea had been implanted that Uruguay could offer a secure and reliable port for the shipment of goods and materials both to and from the Islands. It was the job of politicians to enable the private sector to get on with its business and this duty was one that they felt obliged to take away with them. Considering that the Falkland Islands imports 87% of its consumer goods and only 4 % comes from Uruguay, Mr Trobo said that he had to wonder why Uruguay did not aspire to export 60% of the Islanders' needs.
Deputy Radio, who is a medical general practitioner said that in his opinion this visit was not only about commercial matters, but also offered the opportunity for the development of links related to health and education. There was a tradition of Falkland Islanders going to Montevideo for medical treatment and this had to be made easier. Many Falkland Islanders in the past had studied at bilingual schools in Uruguay, which was something worth working to re-establish.
A number of delegates including Deputies Mañana and Trobo made the point that the exchange of information between Uruguay and the Falklands need not be only in one direction. There were areas connected with the improvement of pasture and the production of both sheep and cattle where both countries might have much to gain from such an interchange. There were also areas of experience and expertise which were of interest in Uruguay such as the use of wind power, where the Falklands were probably more advanced than Uruguay and had much to offer. Uruguay was just beginning to investigate the possibility of off-shore oil and gas, which was another area in which the Falklands already had many more years of experience.
After so much expression of optimism about the beginning of a new era of good relations between Uruguay and the Falkland Islands, and without mentioning any country in particular, Deputy Trobo concluded by saying that the deliberate, but often concealed actions being taken to block trade with the Islands was "a sad thing" and all the neighbouring countries in Latin America had to work together to break and end this blockade. The Falkland Islanders had the right to liberty, autonomy and to be allowed to live happily with their neighbours.
The political problems had to mature and, in time, resolve themselves. In this regard Uruguay had an important role to play.
John Fowler - Stanley