Scolari wants to banish the ghosts of the 1950 when Brazil was beaten by Uruguay
Thursday, February 20th 2014 - 10:27 UTC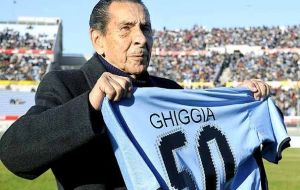 Coach Luis Filipe Scolari says he wants Brazil to banish the ghosts of 1950, when his country last hosted the World Cup and lost the final in a defeat against neighboring Uruguay that has haunted them ever since.
Scolari explained to reporters at a FIFA pre-World Cup workshop that his view was different to that held by most Brazilians. He wants the 1950 team, beaten by Uruguay in front of a 200,000 crowd at Rio de Janeiro's Maracana Stadium, to be celebrated rather than vilified.
As Brazil prepare to host this year's World Cup, Scolari said: "I wish to underscore my vision of 1950 is entirely different to what most people think.
"Before 1950 Brazil had never gotten to the final, they were the pioneers of the five titles we have won since then. Those players got there and made Brazilian history.
"We built our success on top of them. We are going to try and get back to the Maracana for the final and properly remember the team of the 50s because they were wonderful and fantastic and that's how I'd like Brazilians to think about them."
The final defeat, which became known to Brazilians as the 'Maracanazo', still rankles among fans even though the team have gone on to win a record five World Cups since.
For decades, players from the 1950 squad had a finger of blame pointed at them and most never quite recovered from the experience.
"We will be playing with 12 players on the pitch," Scolari said of Brazil's chances this June and July. "Some people call me populist but, for goodness sake, I'm playing with the support of my own people.
"We have to think big, that we are good, that we have quality. Otherwise what am I as the coach doing? "We want to be champions, we are going to play to win."