Gibraltar moved from Group to avoid playing Spain at qualifier for UEFA EURO 2016
Tuesday, February 25th 2014 - 17:29 UTC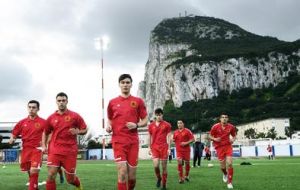 Gibraltar will play against the might of Germany, Scotland, Poland, the Republic of Ireland and Georgia in Group D of the qualifying rounds in the Euro 2016 football championships. Gibraltar's first match is a home-fixture on 7 September against Poland.
Gibraltar's maiden Euro campaign will also see them play in Germany and Scotland. The UEFA EURO 2016 qualifying draw signals a new era for Football on the Rock as a record 53 teams learnt what is between them and a place in the final tournament in France.
Gibraltar Chief Minister, Fabian Picardo, joined GFA officials and the team, at the Rock Hotel to celebrate Gibraltar's destiny in the EURO 2016 qualifying draw held in Nice at the Palais des Congrès Acropolis.
The blind draw originally and briefly put Gibraltar in Group C alongside the European and world champions Spain but due to political tension, and the UEFA Executive Committee having earlier ruled that Gibraltar couldn't meet Spain, was immediately moved into Group D with European giants Germany.
Gibraltar will also travel to Hampden Park to face Gordan Strachan's Scotland for what will no doubt be a memorable match along with tough fixtures against Republic of Ireland, Georgia and Poland.
Gibraltar's head coach Allen Bula told the Gibraltar Chronicle: "From the very earlier stages leading up to the EURO qualifying draw I always had this feeling we'd meet Germany, and for it to actually happen is fantastic for Gibraltar".
Bula will now focus on his opposition as Gibraltar prepares to embark on their first competitive campaign since admission in UEFA and with a population of around 30,000, Gibraltar is the smallest nation in UEFA's 54-member family.
"Reality has finally hit us all as we prepare to compete against strong nations in a very tough group," said Gibraltar's Head Coach Bula. "It's been a long time coming and it feels very good, we have to carry on what we've set out to do and hopefully reach the play-offs, anything can happen."
Captain of the national squad, Roy Chipolina, told the Chronicle: "It's a fantastic draw for us to play against Germany who are probably the biggest nation in football alongside Spain."
"For us it's a big learning curve in football, but that is what we are here to do, learn and progress and hopefully Gibraltar will become a much bigger nation in football."
Due to stadium issues, Gibraltar will play their home matches in Portugal, probably in Faro.
Bula added: "Obviously for the fans it is a bit difficult and I would have liked to have played in Gibraltar but we are building a new stadium which will be finished in September 2016".