HMS Richmond back in Portsmouth with a special honor received in Falklands
Tuesday, February 25th 2014 - 04:59 UTC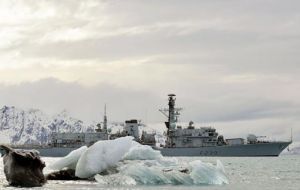 HMS Richmond is back in Portsmouth at the end of her South Atlantic patrolling that saw her spend 2,881 hours at sea covering 33,316 nautical miles, visiting seven foreign countries (Portugal, Cape Verde, South Africa, Panama, Colombia, Bahamas and the United States of America) and five British Overseas Territories (Ascension Island, St Helena, Falkland Islands, Tristan da Cunha and South Georgia).
She is also back with a special Commendation for Distinguished Service from the Commander British Forces South Atlantic Islands, Air Commodore Russell La Forte, stationed at the Falkland Islands.
Reflecting on the Type 23 frigate return to Portsmouth, Commanding Officer, Commander Robert Pedre, said: "HMS Richmond has enjoyed a hugely successful seven-month operational deployment, conducting maritime security operations in the Atlantic, Antarctic, Eastern Pacific and Caribbean Sea.
"Furthermore, we have been honored to undertake defense diplomacy on five continents hosting an array of senior dignitaries, demonstrating the UK's commitment to the region and protecting our nation's interests.
"I am immensely proud of my ship's company's many accomplishments on this remarkable deployment and now we are home I would like to thank our families and friends for their stalwart support throughout."
HMS Richmond has conducted a wide range of operations including working with the Cape Verde Coast Guard to conduct training, maritime security patrols of the Exclusive Economic Zones of Ascension Island, St Helena and Tristan Da Cunha (all British Overseas Territories) and assisting members of the British Antarctic Survey to reach South Georgia for conservation work.
In the Falkland Islands the ship visited various settlements across the Islands and trained with the British Army and Royal Air Force.
For her outstanding contribution, HMS Richmond was honored to receive a Personal Commendation for Distinguished Service from the Commander British Forces South Atlantic Islands, Air Commodore Russell La Forte.
Once through the Magellan Strait and en-route to Panama, further security patrols were conducted in support of British allies in the Eastern Pacific. In Panama, HMS Richmond hosted senior cross-Panamanian Government representation and Her Majesty's Ambassador.
A transit through the Panama Canal was followed by a visit to Colombia where the ship hosted a high-profile Ministerial visit and Defense and Security Industry day; showing off the Best of British.
A visit to Nassau in the Bahamas included a Royal Reception with Her Royal Highness Princess Michael of Kent taking the salute at Ceremonial Sunset.
The final stop was Fort Lauderdale, Florida to embark stores for the final leg of the deployment followed by some training with the United States' Coast Guard.