Russia with plans for military bases in Nicaragua, Cuba and Venezuela
Thursday, February 27th 2014 - 03:21 UTC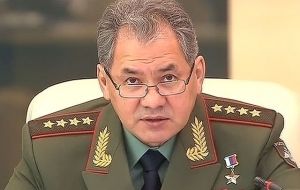 Russia is planning to expand its permanent military presence outside its borders by placing military bases or seeking permission for navy ships to use ports in a number of foreign countries, Defense Minister Sergei Shoigu said on Wednesday. The list includes Vietnam, Cuba, Venezuela, Nicaragua, the Seychelles, Singapore and several other countries
Shoigu in remarks carried by Russian news agencies also revealed that the military was also conducting talks with Algeria and Cyprus. He said that it was essential for the Russian navy to be able to call at their ports to service its ships.
Shoigu said Russia was also talking to some of those countries asking them to allow long-range bombers to use their air bases for re-fuelling.
President Vladimir Putin has launched a massive military modernization program and sought to demonstrate Russia's global reach by sending navy ships to the Mediterranean, Latin America and other areas.
Russia according to Ria Novosti already has similar arrangements with Armenia, Tayikistán, Kirguizistán and Syria. Likewise in the Crimean peninsula of Ukraine, Russia has the outpost for its Black Sea fleet.
The fugitive Ukranian former prime minister Viktor Yanukovich was a close ally of Russia and President Putin his main support.