Clear majority of Argentines disapprove of Cristina Fernandez government
Wednesday, March 5th 2014 - 05:02 UTC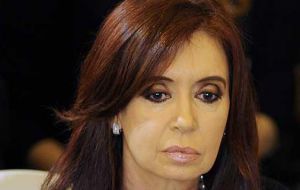 The assessment of Argentine President Cristina Fernandez performance has dropped over 20 points according to the latest findings from a public opinion poll published this week, with 67.5% of interviews saying they are not satisfied with the current leadership at Casa Rosada.
The poll by Management & Fit indicates that only 25% of Argentines approve Cristina Fernandez performance as head of government compared to 44.4% only four months ago. The fall in support seems directly linked to the disappointment with economic expectations in Argentina.
When asked, "How do you consider your personal economic situation will be in coming months?, 55.8% said worse and only 12.6% believe it will improve.
Regarding the overall economic situation of Argentina, 67% said that things will deteriorate during 2014, shows the poll which was published by Clarín, the daily which heads the 'hate list' of Cristina Fernandez administration.
Likewise seven out of ten Argentines believe inflation this year will be greater than in 2013, which according to private estimates reached 28% last year (the highest in the continent after Venezuela), even when manicured official data pointed to an inflation of 10.9%.
However the issue of greatest concern for the Argentines is insecurity, (crime) according to 82.4% of replies, followed by economic issues; inflation, 69.9% and unemployment, 50.5%.
"This pessimism is not new, since it has been showing for over a year now. However now it has strong foundations since the Argentine economy is advancing towards a recession combined with high inflation", according to the comments from the pollster.
However the real bad news for the government is that public opinion consider the government more of the problem than its solution, concludes Management & Fit. The poll was done between February 18 and 15, and included 1.600 interviews nationwide.