Malvinas negotiations will take place 'sooner than later' forecasts Cristina Fernandez
Wednesday, March 5th 2014 - 05:11 UTC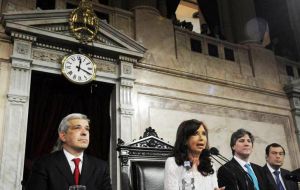 "Sooner than later" Argentina will be able to discuss with the UK "the Malvinas Islands sovereignty issue" as indicated by the UN resolutions, said Argentine president Cristina Fernandez during her speech to the General Assembly opening the 132th legislative period last Saturday, March first.
"I'm sure the majority of the English people, particularly the young generations are not interested in being colonizers, because they are suffering the disasters of a world that condemns the young to no jobs and no future", added the Argentine leader addressing the packed Argentine congress.
However despite Cristina Fernández acknowledged commitment to the Falklands/Malvinas question, after an almost three hours address to Congress, the Argentine president had to be given a slip of paper reminding her that she still needed to address that very dear issue.
"Oh yes I almost forgot" admitted the president and in a less bellicose and more sober spirit said that "the world's eyes are opening and sooner than later we will be able to discuss the sovereignty issue as mandated by United Nations".
Cristina Fernandez then added Argentina's demand for the "UK government to sit down and negotiate what that multilateral organizations orders (UN), which are bilateral negotiations over the sovereignty question of the Islands".
While making reference to the Malvinas issue, President Cristina Fernández also recalled that "Malvinas has much to do with oil, and with what I said previously about unity and integration of America, and about having a military base in the South Atlantic", when recently at the Celac meeting in Havana it was agreed that this part of the world is designated as a 'region of peace'.
Finally the Argentine president said that she was looking forward to 10 June, which is known as the Day of Assertion of Argentine Rights over the Malvinas Islands and which dates back to the time of former president Juan Domingo Perón.
"On that day hopefully the Malvinas Museum at the former Esma grounds will be opened. I'm told it will look beautifully" concluded the Argentine president her reference to the Malvinas issue.
Overall the three-hour long speech was described as 'conciliatory' by the media and the opposition, although forgetting to talk or mention directly two issues which are of the most concern for Argentines: inflation and insecurity.