Cristina Fernandez wants France to lobby before the Paris Club
Friday, March 7th 2014 - 04:41 UTC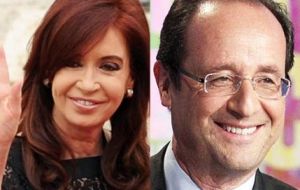 President Cristina Fernandez is expected to visit France for the opening of Paris Book Show, with a great display of Argentine culture and conferences, but most important she will be meeting on 19 March with her peer Francois Hollande to strongly lobby for a better deal with the Paris Club for the payment of a defaulted debt of 10bn dollars dating back to 2001.
According to the Buenos Aires financial media Argentina has expressed its willingness to cancel the (government to government) debt, but on terms which are not accepted by all creditors, particularly Japan and Germany, who insist on more strict conditions than those proposed by the government of Cristina Fernandez, and with the auditing involvement of the IMF.
Apparently Argentina's proposal is to cancel with sovereign bonds and in exchange those countries who accept payment would have to invest in Argentina. However Germany and Japan want cash and the IMF involvement, which Cristina Fernandez refuses point blank.
However coincidence or not the Paris Club board is meeting on March 17/20 to precisely address the Argentine case and the proposal presented last January by Economy minister Alex Kicillof. Allegedly both sides want to speed negotiations and get it over.
Kicillof offered to cancel the debt in ten years with a maximum payment of 2 billion dollars in the first quarter of 2016, and creditors seem mostly willing to accept a cocktail of bonds, similar to those involving the Repsol/YPF deal. Another Argentine aspiration is a significant 'shave' of the 10 plus billion dollars debt, of capital plus interests.
But the proposal that those countries which collect debt monies have to invest almost a similar sum in Argentina is questioned: Spain, US and France could be willing, but Japan insists in receiving its one billion dollars cash, probably in several payments. And here is where the Hollande diplomacy should help the Argentines.
However there is an even greater hurdle and that is: Germany and Japan insist, as indicated in the Paris Club charter, that the IMF audits the deal and this would mean Argentina opening its books to Ms Christine Lagarde, but again Cristina Fernandez won't yield not even a 'bird's eye-view'. Likewise the IMF clause and its application needs a full consensus and this seems a bit distant, at this point, even with Hollande's mediation, according to the Buenos Aires media.