Atlantic patrol HMS Portland conducted joint exercises with Nigerian navy
Monday, March 10th 2014 - 06:12 UTC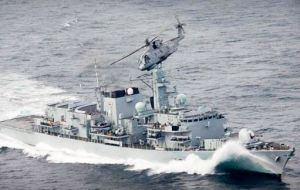 Royal Navy Type 23 Frigate HMS Portland on Atlantic patrol is visiting Western Africa and conducted training with the Nigerian Navy, hosted a Security Forum in support of United Kingdom Trade and Industry and a maritime security conference.
A team of sailors and Royal Marines from HMS Portland conducted training with Nigerian sailors. The training included fire fighting, damage control and maritime boarding and search techniques.
Sailors from both navies also enjoyed a social event held at the Western Naval Command Headquarters in Lagos.
The Ship's Physical Training Instructor LPTI Matthew O'Brian worked with his Nigerian colleagues, assisting with the running of a fitness class and exchanging ideas to ensure that sailors remain "fit to fight and fit for life."
LPTI O' Brian said: "I thoroughly enjoyed the opportunity to train with Physical Training Instructors from the Nigerian Navy and was impressed with the fitness level of the class that I instructed, in temperatures that reached 28°C."
Rear Admiral SI Alade, Flag Officer commanding the Nigerian Western Naval Command commented on the Nigerian Navy's shared heritage and close working relationships. He said: "We have enjoyed working with our Royal Navy partners; Nigeria's Navy is an off shoot of the Royal Navy and we continue to work closely."
A capability demonstration was held onboard HMS Portland. This event enabled the ship's company to show the versatility and flexibility of the ship to a wide range of visitors. The event concluded with a ceremonial sunset ceremony.
The salute was taken by Rear Admiral Alade, the British High Commissioner to Nigeria, Dr Andrew Pocock and Portland's Commanding Officer, Commander Sarah West.
Dr Pocock said: "HMS Portland's presence was a demonstration of continuing RN capability and deployability, which is a considerable boost to efforts to contribute to regional security and stability".