Falkland Islands turns out to receive the Commonwealth Games Queen's baton
Monday, March 10th 2014 - 20:50 UTC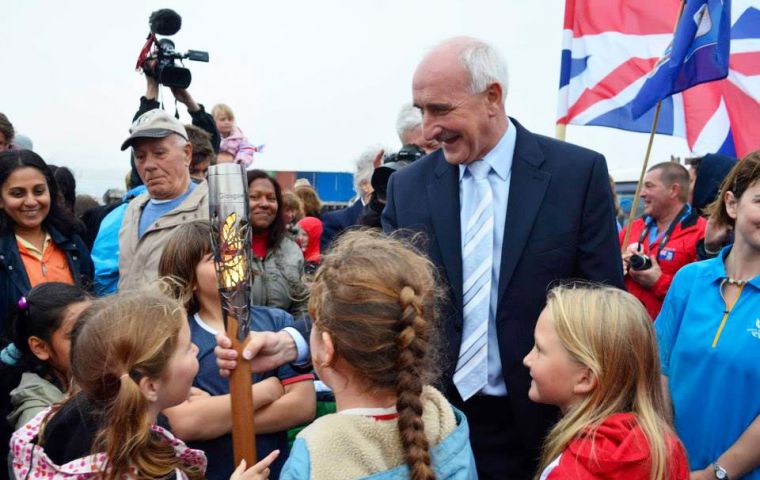 The Queen's Baton promoting the Commonwealth Games in Glasgow later this year received a hearty welcome in the Falkland Islands, as residents grouped on the Stanley public jetty at 6.30pm on Thursday 27 February when it was hurtled to Stanley from HMS Clyde.
The Baton arrived in the MOD air-bridge and after a tour of the Mount Pleasant complex was moved by a SAR helicopter to HMS Clyde.
The first to take the baton was the Captain of the Clyde Lieutenant Commander Sarah Oakley before it was passed to Chair of the Falkland Islands Overseas Games Association MLA Mike Summers.
The following day the Baton was relayed between local sports clubs all the way from the Lady Liz, including a trip in an Islander aircraft, and back to Stanley. Included in the relay were the Golf Club, the Community School, Port Louis, Volunteer Point and Kidney Island, the day ending with a reception at Government House.
Another tour followed on Saturday culminating in a visit to the stone corral and touching base with Motocross riders on the way.
It was checked in at Mount Pleasant Airport and left the Islands at 3pm March first.