US will not side with Argentina in its dispute with hedge funds, says Kerry
Friday, March 14th 2014 - 08:42 UTC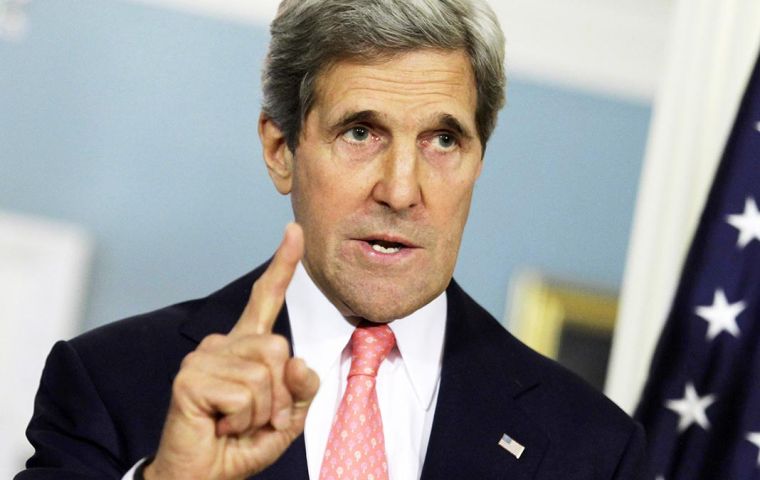 US Secretary of State, John Kerry has rejected the possibility that the Barack Obama administration would side with Argentina in the long-standing dispute with hedge funds over the defaulted bonds from the 2001/2 meltdown. Still the US official praised what he considered some "positive steps" by the Cristina Fernandez government.
During a brief to the US Congress and in reply to a question from Republican Representative Mario Díaz Balart, (hopefully no more 'amicus curiae'), Kerry said that Washington "urged Argentina to pay its public and private debtors".
And "No, the answer is no. We are not going to", the state secretary affirmed when we was asked whether Obama's government would "side with Argentina in the court."
However Kerry said there had been some "positive steps" carried out by the Cristina Fernández administration in recent months, such as October's settlement of a controversy with three American companies that had reached the International Center for Settlement of Investment Disputes (ICSID) and the creation of a new Consumer Price Index with the support from the IMF.
Kerry also mentioned that the State Department will do its utmost to recover the 600 million dollars Argentina owes the US as part of the 10 billion Paris Club debt.
"I'll do everything in my power to get it back, as will the State Department" he underlined.
Last week the US government did support Argentina before the Supreme Court with an 'amicus curiae' but this was on a specific issue since the hedge funds wanted to know about Argentina's assets overseas.
The US government said that "allowing the examination of the assets of a foreign country by a US court would undermine the purposes of the US Sovereignty Immunity Bill, and could have a number of adverse consequences".
However despite the US position expressed by Secretary of State Kerry, the IMF reiterated it was seriously concerned with the consequences of a US court decision regarding full payment of hedge funds holdouts "for the debt restructuring processes" worldwide in the future.
"We've said it before and we reiterate today what the IMF concerns are", Gerry Rice, IMF spokesperson was quoted.
Following a long court battle federal Judge Thomas Griesa ruled on November 2012 that Argentina must make effective 1.330bn dollars of defaulted bonds (full face value plus interests) to the hedge funds NML Capital and Aurelius "at the same time or before the holders of restructured bonds" are paid.
Since the 2001 default Argentina has refinanced almost 93% of the pending debt through two bonds restructures, in 2005 and 2010, with significant value 'shaves'. However the hold-out hedge funds went to court after the full value of the bonds and have refused any form of transaction.