"Crimea means more to Russia than the Falklands to Britain"
Saturday, March 15th 2014 - 04:12 UTC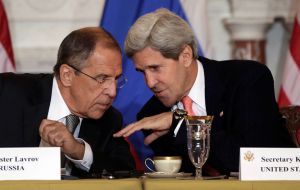 Crimea means more to Russia than the Falklands mean to Britain, Russia's Foreign Minister Sergei Lavrov said on Friday after holding last-ditch talks on the region with his U.S. counterpart John Kerry.
The two men met in London ahead of a referendum in Crimea to decide whether the Ukrainian region will become part of Russia, a vote that has sparked tension between Moscow and the West.
Lavrov said the planned referendum in Crimea is in line with international law - a claim which US and EU leaders dispute - and argued that the region should be treated similarly to Kosovo, which was unilaterally declared independent from Serbia in 2008.
Mr Lavrov also flatly rejected reports which emerged on Friday claiming that the Kremlin is planning to invade eastern Ukraine. He said Moscow has "no plans" to undertake such an operation.
However US officials said they still hoped Moscow would avoid taking the extra step of actually annexing the region of two million mostly Russian speakers in a move that would escalate the biggest East-West showdown since the 1989 fall of the Berlin Wall.
Lavrov told reporters after more than three hours of talks with Kerry at the lavish US ambassador's residence in central London that Russia and the West were still far apart on Ukraine.
"Everyone understands -- and I say this with all responsibility -- what Crimea means to Russia, and that it means immeasurably more than the Comoros (archipelago) for France or the Falklands for Britain."
The Kremlin simultaneously issued a statement saying that President Vladimir Putin had told UN Secretary General Ban Ki-moon that Crimea's decision to conduct the referendum was "in full accordance with the norms of international law and the UN Charter".
Kerry characterized his talks with Lavrov as "very direct, very frank".
"Neither we nor the international community will recognize the results of this referendum," he said, adding that if it takes place, "there will be some sanctions, there will be some response."
Kerry said that President Barack Obama has already "made it clear that there will be consequences" if Russia failed to take immediate steps to resolve the flaring crisis on the EU's eastern frontier.
The self-declared pro-Kremlin head of Crimea who initially called the controversial referendum had earlier given Western negotiators some hope by indicating he did not expect Russia to annex his region right away.
"It would take a maximum of one year," Sergiy Aksyonov told reporters in the Crimean capital of Simferopol.
Sunday's vote gives residents of Crimea -- a rugged region that has housed tsarist and Kremlin navies since the 18th century -- only two choices: joining Russia or "the significant strengthening of their autonomy within Ukraine".
The peninsula's self-declared leaders have already predicted an easy victory and the region is largely expected to vote in favor of joining Russia despite discontent from the Muslim Tatar minority that makes up 12% of Crimea's total population of two million.