Argentina blasts double-standard in addressing Crimea and Malvinas
Thursday, March 20th 2014 - 07:02 UTC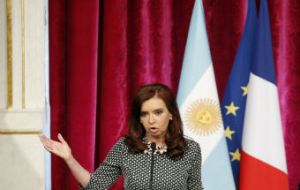 The Ukraine question must be settled through political negotiations and peace, President Cristina Fernández said at a press conference in Paris where she arrived this week to meet with her French counterpart Francois Hollande.
A "sad paradox," CFK added, if the Crimea crisis triggers violence as the world readies to mark the centenary of World War I this year.
Holding a press conference at the Elysee Palace in Paris where she met with France's Hollande to discuss bilateral issues, Ms. Cristina Fernández renewed Argentina's "peaceful position" urging the West and Russia to reach a "political" solution to the Ukraine conflict.
As expected, the president took the opportunity to bring Argentina's sovereignty claims over the Falklands/Malvinas Islands, following Crimea's referendum on Sunday that showed people's will to be reunited with Russia, a vote the US and Europe have harshly rejected for "illegal."
"Decisions can not involve a double-standard. One cannot defend territorial integrity in Crimea but not in (the case of) Malvinas. Either we agree on all territorial integrity (cases) or we continue (living) in a world without respect, where that that befits the stronger comes first," the president said in her address to the international press, referring to the Falklands' sponsored referendum of last year.
Falkland Islanders last year overwhelmingly reaffirmed their will to continue as a British Overseas Territory, but Buenos Aires condemned it as "illegal," underlining that the Falklands/Malvinas dispute involves not the principle of peoples' right to self-determination but precisely a territorial integrity conflict with a country (Argentina) that has part of its territory seized by a foreign power (Britain).
"The Malvinas Islands have always belonged to Argentina, just like Crimea did to the Soviet Union till 1954 when it was transferred to Ukraine," the head of state assured.
"However, world powers have showed themselves in favor of the Islands' referendum and that has no value. Now, if Crimea's (vote) has no value, that is just a few kilometers away from Russia, then the vote of an overseas colony that lays 13,000 kilometers (from London) lacks all value," she insisted.