Mujica confirms Uruguay will accept Guantanamo prisoners as 'refugees'
Friday, March 21st 2014 - 01:20 UTC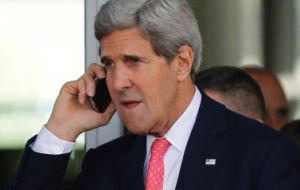 President Jose Mujica confirmed that Uruguay has agreed with the United States to accept some prisoners held in the much-criticized detention center at the US military base of Guantanamo Bay, but he also cautioned that "everything has a bill".
The Obama administration, which wants to close the center used to imprison people captured after the Sept. 11, 2001 attacks on the United States, has been talking to several countries about relocating inmates. It was an Obama election pledge to close the Guantanamo base, which for different reasons he has been unable to conclude.
"It's a request for human rights reasons," Mujica told journalists while attending an unrelated farming event. Apparently the request is for five prisoners for a period of two years. US ambassador in Uruguay Julissa Reynoso described the prisoners as "non dangerous for the Uruguayan society".
Mujica said Obama "has asked a bunch of countries, some sixty countries if they can take some and I told him yes."
Guantanamo has been criticized by human rights groups, with some of its prisoners held for a decade or longer without being charged or given a trial. Opened by President George W. Bush in 2002 to hold terrorism suspects rounded up overseas, Guantanamo became a symbol of the excesses of his "war on terror."
"They are coming as refugees and there will be a place for them in Uruguay if they want to bring their families," said Mujica, "I was imprisoned for many years and I know how it is", added the former guerrilla who spent 14 years in prison before and during his country's 1973-1985 dictatorship.
"If they want to make their nests and work in Uruguay, they can remain in the country"
"There are 120 people imprisoned for thirteen years: they have never been sent before a prosecutor, a judge and the US president wants to get this problem off his back. The Senate is demanding sixty things, and then he made the request", revealed Mujica.
"I constantly hear people complaining about human rights, I'm fed up with them, this is a real human rights issue", added Mujica in reference to the many compensation demands the Uruguayan state has faced on the issue.
Asked if he had requested the US government something in exchange, Mujica said "I don't do favors free, I pass on the bill", but he immediately added this "has to be done because it has to be done".
Finally the Uruguayan leader recalled that a century ago in 1914, when some anarchists were expelled from Buenos Aires the local port authorities in Montevideo didn't let them land. However then president José Batlle y Ordóñez, (the founder of modern Uruguay) got news of what had happened, and when the anarchists had left for the Canary Islands, he had them brought back and invited them to remain in Uruguay".
US officials confirmed that talks about Guantanamo had taken place with Uruguay, but would not give more details.
"The US government maintains high level conversations with the Uruguayan government on various global affairs," the US embassy in Montevideo said in a statement.
"One of those has been the closure of Guantanamo, one of the Obama administration's priorities for its humanitarian implications."
A US State Department official said that given President Jose Mujica's leadership in the region, "the United States has engaged the government of Uruguay for help in closing the detention facility as we have engaged a range of governments."
The official, speaking on condition of anonymity, said many governments, including the Organization of American States and the Latin American community, "have called on the United States to close down the detention facility and we look forward to their continued cooperation".
However the news triggered immediate reaction from the opposition that asked why should Uruguay act as 'jailers of the US', and if these people have committed crimes why have they not been sent to court? and under what legal framework will the operation take place.
Furthermore accepting these terrorist-suspects, only makes Uruguay part of a very serious global conflict, and 'we don't know the consequences or have an idea what this new scenario means", said Senator Ope Pasquet.
Finally he asked if this was part of President Mujica's negotiations to be invited to the White House and have a picture taken with Obama, apparently sometime next June.
The news of the Guantanamo prisoners was announced by the weekly Búsqueda which has very good information links with President Mujica. In the piece it also mentions that Secretary of State John Kerry was on the phone last Monday to thank Mujica for accepting the proposal and confirming that President Obama will be receiving the Uruguayan president at the White House late May/early June.
Busqueda also mentioned that Mujica consulted on the Obama initiative with Cuba's Raul Castro and other undisclosed Latam presidents during the recent Celac summit in Havana. Apparently Castro agreed with the proposal.