Apostle Matthew and the Falklands/Malvinas controversy
Wednesday, April 2nd 2014 - 20:03 UTC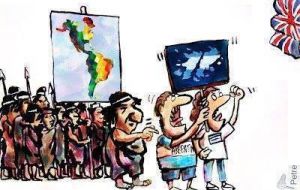 A Falkland Islands supporter has sent the following caricature referred to the alleged "double standards" to which Argentine president Cristina Fernández and former Senator Daniel Filmus, head of the Foreign Ministry Malvinas Affairs office, repeatedly invoke when discussing the Falklands/Malvinas dispute and the policy of ignoring the Islands population and their rights.
According to statements from Mr. Filmus, a first generation Argentine, the official discussed with Pope Francis in the Vatican the 'double standards' controversy.
The drawing comes with a reference to Mathew 7.5: " Thou hypocrite, first cast out the beam out of thine own eye; and then shalt thou see clearly to cast out the mote out of thy brother's eye".