Falklands' MLA Short to Cristina Fernandez: "how low can you get"
Wednesday, April 2nd 2014 - 19:48 UTC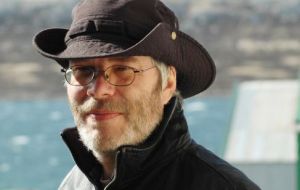 An exchange of tweets between Falkland Islands elected member of the Legislative Assembly Gavin Short and Argentine official Daniel Filmus has caused uproar in Argentina because the MLA describes as "rather sick" the "celebration of a brutal invasion of innocent civilians".
In effect the trigger for the exchange was former hopeful Senator Filmus message who said that "the commemoration of April 2 unites us Argentines in homage and tribute to those who fought for the recovery of the exercise of our sovereignty in Malvinas, particularly those who valiantly lost their lives for the cause".
Earlier the Falklands government had tweetted in Spanish that "today marks the 32nd anniversary of the Argentine invasion of the Falklands and the beginning of one of the most tragic times of our history".
The military invasion of 2 April 1982, ended 74 days later with the complete surrender of the Argentine invading forces, and a death toll of 649 Argentine combatants (mostly green conscripts and very few officers, except for pilots), 255 British soldiers and three Falklands civilians whose families had been living in the Islands for generations.
At the time the Falklands population was around 1.800, and the war effort involved tens of thousands of forces, hundreds of vessels and aircraft from both sides.
Later Filmus tweetted "at midday we will be with the President in the anniversary ceremony". At the ceremony the Argentine president unveiled a 50 Pesos bill inspired in Argentine Malvinas.
MLA Short insisted that "celebrating a brutal invasion of 1.800 civilians and taking their freedom away. Only in Argentina".
Finally MLA Short also blasted President Cristina Fernandez and the armed group involved in the Condor Operation, which in 1966 hijacked an Aerolineas aircraft and had it land at Stanley racecourse to show the Argentine flag flying in Malvinas. At the time there were no landing facilities for commercial aircraft in the Falklands and the Islands only had a few volunteers in a local defense force.
"CFK may also be celebrating the Condor group as well. Hijackers and terrorists being celebrated ? How low can you get".