Argentina and Paraguay have Mercosur delayed summit in their bilateral agenda
Monday, April 21st 2014 - 06:24 UTC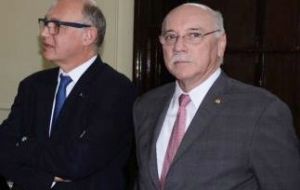 Argentina's Hector Timerman and Paraguay's Eladio Loizaga will be meeting Monday in Asunción to address among other issues the three times delayed Mercosur summit, which should take place in Venezuela, and must be decided before next June when the group's six-month chair again rotates.
The current delayed summit which had to be held last December has been postponed officially at least three times because of the ongoing political situation in Venezuela. The last summit was held July 2013 in Uruguay. Venezuela currently continues to hold the chair as long as there is no summit.
However theoretically next June the chair has to pass on to another Mercosur member following alphabetical order, but given the situation created with Paraguay, which was suspended in June 2012, and returned in August 2013, it all remains in a limbo.
In effect, according to February statements in Brussels from Brazilian president Dilma Rousseff, Paraguay was to be given the current (delayed) chair, last December, which would also formalize the meeting of the group's five presidents, including the newly elected Horacio Cartes from Paraguay.
The fact is that since the founding of Mercosur in 1991 this is the first time that one of the two annual summits has not taken place, so far. This summit was to be held originally in December 2013, then 17 January and finally March 31st, but is was finally again suspended.
Another issue in the Mercosur agenda is the tariff-reduction proposal from the group to be presented sometime at the end of the month to the European Union with the purpose of achieving an also much delayed (since 1999 when talks started) ambitious trade and cooperation agreement.
The negotiations had been stalled because of Argentina's reluctance to open its market or rather to defend its manufacturing jobs, but Brazil earlier this month after several meetings with Argentine officials said it had been agreed to make a joint proposal which covered 90% of the trade Mercosur/EU universe.