Paul McCartney conquers Montevideo for a second time: "I'm my favorite player!"
Monday, April 21st 2014 - 06:51 UTC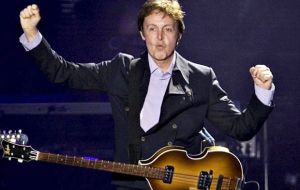 With a blend of nostalgia for the Beatles and the pleasure of enjoying his presence in Montevideo, Paul McCartney captivated for a second time the Uruguayan audience with a three hour show in which he confirmed that he is one of the greatest.
"Eight days a week" opened the show with 50.000 people at the Centenario Stadium in Montevideo, which together with a magnificent display of light and images made Paul and his band's performance even more gratifying.
"Tonight I'm going to try and speak a little bit of Spanish" Paul told the roaring crowd, who all along the performance confirmed the top musician and vocalist he is, just two years after his first performance in Uruguay.
"Good night Montevideo; Welcome Uruguayans! I'm very happy to see you again", said Paul in Spanish.
Paul, 71, played the guitar, the piano and with impeccable voice classics from the Beatles and the Wings, plus themes from his last album, New, "Save Us".
One of the most emotive moments of the night was when he interpreted 'Blackbird' as well as 'Let it be' followed by the crowd with a massive display of flashes from cellular phones and cameras.
Two fans managed to climb the stage and Paul signed an autograph in their backs, while later pleasing a man in the first rows who desperately asked for "One after 909".
The show started a quarter to nine o'clock sharp but Paul arrived at the stadium by half past four to check the 70 by 22 meters high stage and test the sound, and improvise some of the songs. The stage was completed with two huge color screens.
Earlier in the day and as part of his presentation in Montevideo a video-interview on his "Out There" world tour was aired with Liverpool's striker Luis Suarez asking the questions.
During the interview Paul anticipates that England will be winning the World Cup in Brazil and confessed that "my favorite player is me!"
In total Paul played and interpreted some 30 songs among which, "Yesterday", "Helter Skelter" and "Golden Slumbers" and reaffirmed what he told Suarez during the interview, "They are just good songs, that is why".
From Montevideo, Paul's new tour continues in Santiago de Chile, Lima, Quito and San Jose de Costa Rica. He is travelling with his third wife, Nancy Shevell.