Lay-offs hit Brazilian auto industry following advancing drop in sales
Friday, April 25th 2014 - 05:45 UTC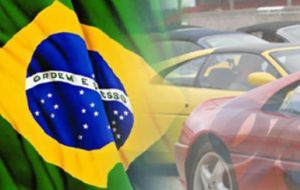 Volkswagen said on Thursday it will lay off 900 autoworkers at two Brazilian plants, one of the biggest recent efforts to cut output in the face of sluggish demand for cars in Latin America's largest economy. Brazil is the No. 4 market for Volkswagen after China, Germany and the United States.
The layoffs at the Volkswagen plants in Sao Bernardo do Campo outside of Sao Paulo, and in Sao Jose dos Pinhais in Brazil's southern state of Parana will begin May 5, according to Brazil's Metalworkers' Union.
"Like other carmakers in the country we are using the flexibility tools established in the contracts between the company and unions to adjust to the markets actual demand," Volkswagen's Brazil unit said in a statement.
In March, 240,800 vehicles were sold in Brazil, 15.2% less than the same month a year earlier and 7.1% less than in February, according to Anfavea, the Brazilian automakers association. In the first three months of 2014, production fell 8.4% from a year earlier to 789,900 vehicles.
Under standard Brazilian auto industry labour contracts, automakers can "lay off" workers for up to five months, sending them home with their salaries paid in part by the employer and the rest made up by cash from a Brazil's unemployment-insurance system. On Wednesday Anfavea's president Luiz Moran called on the government and unions to accept a layoff longer than five months, which would require more financing by the government.
Despite the layoffs, Volkswagen said it has made no changes to its plan to invest 10 billion dollars in Brazil by the end of 2018.
Earlier this month, Mercedes-Benz do Brasil, a unit of Germany's Daimler AG (DAIGn.DE) began a voluntary layoff program at its plant in Sao Bernardo do Campo in an effort to reduce its staff by 2,000 workers.