Brazilian coalition members want 'Lula back' for October's election
Tuesday, April 29th 2014 - 06:37 UTC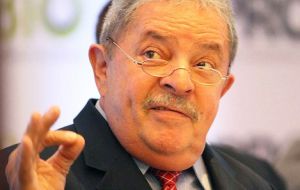 At least twenty members of Brazil's Lower House belonging to the ruling coalition have formally asked for the return of former president Lula da Silva as candidate for next October's election given 'the current economic situation of the country', which in practical terms means dumping Dilma Rousseff's re-election pretensions.
Under the heading of "Back Lula" most members of a junior member of the ruling coalition, the Partido Republicano, have signed a manifesto which they have posted in Congressional offices next to a picture of Lula da Silva with the presidential sash.
"We believe that in the current moment of crisis, both domestically and overseas, the strength of a leadership with experience and brilliance such as that of Lula da Silva would be enlightening", says the manifesto. Although they will continue to support president Rousseff, "we are not saying we want Dilma out, but rather we want Lula back to help address the challenge of the coming economic crisis". Twenty of the 32 PR representatives signed the petition.
"We know Lula da Silva has those conditions, he proved it when Brazil faced a major global crisis", said Bernardo Santana head of the PR who added that his grouping continues to support President Dilma. "The moment is exceptional and demands exceptional measures, extreme decisions".
Lawmaker Santana said that the proposal was not consulted with Lula da Silva, it was born "out of our party and our concern".
In his recent trip to Portugal, Lula da Silva reiterated he will not be candidate to any elective post and again expressed full support and trust in Dilma Rousseff.
"In politics you must never say no, but I believe I have accomplished with my duty with Brazil and I will not be a candidate", he said. "There is no question about my commitment to Dilma's re-election".
Congress members from the ruling Workers Party were quick to react to the manifesto and said that Dilma Rousseff will be the party's candidate next October. "We don't have the slightest doubt that we are all involved and committed to President Dilma's re-election".