Brazil denies financing Uruguay's project of a deep-sea port on the Atlantic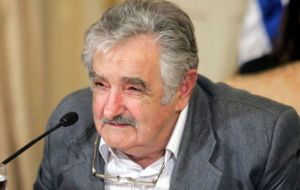 Brazil's economic and social bank, BNDES, denied it was intent in financing Uruguay's deep sea port on the Atlantic coast, as repeated sources in the Uruguayan government have indicated.
"The bank is not considering any financing request for a port in the coast of Rocha, in Uruguay", said an official release from BNDES, adding that "all financing which demands export of Brazilian goods and services must be done following Camex, Foreign Commerce Chamber policies, and abide by rigorous criteria and in the best interests of the country (Brazil)".
However the Brazilian Port Terminals Association, ABPT, president Wilen Manteli said that the "(Brazil) Ports Secretariat confirmed it was advising technically the Uruguayan project, but at no moment was the possibility of Brazilian financing mentioned".
Rio do Janeiro's O'Globo daily recalled that back in September 2012, Uruguayan authorities received the "political support" and "the promise that the ambitious project was to be financed by Brazil".
A public works corporation from Brazil would be responsible for the Rocha deep water port project with a billion dollars financing, added O'Globo, but the news was immediately denied by BNDES.

However Uruguayan president Jose Mujica has repeatedly stated and in different opportunities that Brazil had 'an interest' in supporting the deepwater terminal.
But Uruguayan opposition lawmaker Jose Carlos Cardoso pointed out that the Mujica administration announcements regarding an alleged Brazilian interest and financing are "extremely candid or plain nonsense".
Only ignorance of Brazilian geopolitics can lead to think that Brazil will finance a port in another country, neighboring country, and which they will not manage, indicated Cardoso.
"If the project finally goes ahead we will have to finance the whole investment", cautioned Cardoso.
His words seem to be supported by facts. The announced project to be reasonably profitable needs an average annual turnover of at least 60 million tons. Uruguay with its two main ports, Montevideo and Nueva Palmira, manages 22 million tons a year, and with some trans-shipment from Argentina could have reached 30 million tons.
Besides there is no chance of attracting more cargo from neighboring Argentina since that country is already investing heavily in its own deep sea terminal, and improving La Plata port through a River Plate canal with direct access which could definitively downplay the significance of the other two estuary canals, Mitre and Martin Garcia, both of which are crucial for Uruguay.
It is no mystery that Argentine policy in the last two hundred years, since colonial times and to our days, has been to give priority to the port of Buenos Aires over Montevideo, despite the latter's better geographic conditions.
Thus Uruguay for over a century has had the project of building a deepwater port on its Atlantic coast to counter Argentine hostility but has never had the sufficient cargo or financing for such a major investment, plus all the other geopolitical circumstances that must be considered.
Likewise, Brazil is also involved in its own policy of improving sea and fluvial terminals for which it has earmarked 29 billion dollars, including promoting Rio Grande in the state of Rio Grande do Sul. The last main port in south Brazil before entering Uruguayan and Argentine waters.
Rio Grande is also rapidly becoming a logistics oil and gas terminal for Brazil's offshore operations at the southern tip of its huge hydrocarbons deposits that run parallel to its coast.