Varela wins Panama election, defeats Martinelli's incumbent candidate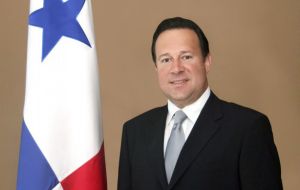 Panama's Electoral Committee declared opposition candidate Juan Carlos Varela as the winner of Sunday's election and the country's next president: he captured 39% of the vote with more than 80% of ballots counted. In Panama there is no run-off and no re-election so president Ricardo Martinelli nominated his successor and completed the ticket with his wife, Marta Linares de Martinelli.
Varela, 50, an engineer and well-known politician whose family owns the country's biggest liquor producer, was seven points ahead of the 32% won by the governing party candidate, José Domingo Arias, a former housing minister and a political newcomer. A third major candidate, Juan Carlos Navarro, a former two-time mayor of Panama City, had 28%.
Varela, who takes office July 1 for a five-year term, campaigned against growing fears of corruption and president's Martinelli's iron fist-style of leadership. He promised a more transparent government that will maintain growth and popular social programs and fight inequality. Panama has enjoyed one of the fastest growing economies in the western hemisphere.
As vice-president Varela broke with the governing party in a rancorous falling out and was stripped of many of his duties.
"Today democracy won, today Panama won," Mr. Varela told cheering supporters at a Panama City hotel, later adding, "We will not tolerate corruption in any way."
Varela's victory was a rebuke to President Martinelli, who oversaw years of rapid growth and defied electoral law by campaigning openly for Mr. Arias on a ticket that included his wife, Marta Linares, as the vice-presidential candidate. Opponents seized on the move as a thinly veiled attempt to hold on to and concentrate power.
It seemed Mr. Martinelli's Democratic Change party had much to give it a sharp advantage: a newly opened subway line in Panama City, the first in Central America, and plans for an expansion. A new, if controversial, highway bypassing the city's old quarter. A skyscraper forest in the capital reflecting the cash pouring in from corporations and wealthy immigrants. And a strong economy, with a 5.2 billion dollar expansion of the Panama Canal that could accelerate it more.
Voters formed long lines all day, and there were few irregularities, said Jennifer L. McCoy, Americas director of the Carter Center, who observed the balloting. In one last-minute dirty trick she cited, fake editions of a major newspaper claimed that two candidates had withdrawn.
Martinelli, 62, a quick-tempered supermarket magnate who shook up the political establishment five years ago as an outsider with a commanding win, could not seek another term. The choice of Arias, 50, led opponents to doubt that Mr. Martinelli would really give up power if his party won.
Arias had sought to ride Martinelli's popularity (60%) with promises to continue big public works and social programs, but he lacks the president's flare for the dramatic and blunt talk that endeared supporters and turned off opponents.
His wife's presence on the ticket also has been questioned, as Panamanian law forbids the sitting president's blood relatives from seeking the country's top two offices. It is unclear if spouses would violate the spirit of the prohibition.
"Her nomination evidences a desire by Martinelli to remain powerful after the elections," said Orlando J. Pérez, a political scientist at Central Michigan University who studies Panamanian politics and was in Panama City for the election.