Mujica meets Obama on Monday with a long agenda of issues to discuss
Saturday, May 10th 2014 - 08:37 UTC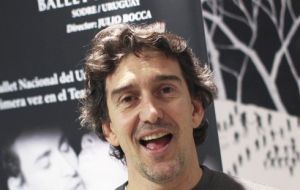 Uruguayan president Jose Mujica flies on Saturday evening to the United States and on Monday at 10:45 will be walking into the White House for a sixty minutes meeting with President Barack Obama. Mujica will be spending five days in Washington where he has scheduled a long list of meetings and conferences.
According to Uruguayan sources, partly confirmed by the US embassy in Montevideo Mujica's agenda with Obama includes addressing issues of trade, Latam politics, marihuana, education, requesting US support in a Uruguay/Philip Morris tobacco dispute and the Uruguayan leader willingness to accept some of the Guantanamo prisoners as refugees.
Uruguay is interested in increasing trade is items such as beef, lamb and citrus, and Mujica has made it a point to request technology and science research aid which could be implemented by sending US professors to Uruguay.
Uruguay has been a pioneer in approving legislation to legalize and regulate the planting and selling of marihuana, an initiative which has brought global attention. Similarly and of interest to the US, Mujica has said he is willing to help vacate Guantanamo by taking some of the prisoners which have been held for years without process, and are not necessarily dangerous.
Mujica is expected to request support from the US in an ongoing litigation with Philip Morris over tobacco packages advertising which apparently has infringed investment protection agreements and could be adverse for Uruguay. The US embassy has warned it is a private dispute, 'complicated' and at the most the US could make a 'friendly presentation'.
Regarding politics, Mujica announced in Uruguay he would like to explain to Obama how and why the US has lost influence in Latam; most probably exchange ideas regarding the Venezuelan situation and support for the Maduro administration, and the complicated relations of Uruguay with Argentina.
"They have his hands and feet tied; he's worse off than I am. We can exchange ideas", said Mujica in Montevideo in reference to President Obama's political situation. "They won't let him move a finger or have any initiatives. Yes will be remembered as the first black president, but how much did he do?, that is why they have him under siege".
Following the White House meeting, Mujica will be interviewed by CNN and later is scheduled to share lunch with Vice-president Joe Biden and probably Secretary of State John Kerry, much depending on the top foreign official's agenda.
On Tuesday Mujica will be the speaker at the US Chamber of Commerce breakfast, and in the afternoon will participate in a "Dialogue without ties" with the World Bank Vice-president Jorge Familiar, with CNN's Juan Carlos López as moderator.
The Uruguayan president who is a former Agriculture minister and with a special interest in farming issues, is also scheduled to hold a meeting with Secretary of Agriculture Thomas Vilsack, and later address the American University in Washington and the Center for American Progress.
On Wednesday Mujica will be addressing the American Society and later in the day meet Uruguayan residents in the US. Finally on Thursday the president will be interviewed by The Washington Post and later will give a conference on legalization and commercialization of marihuana before the Organization of American States Permanent Council.
The Mujica delegation includes several ministers, Foreign Affairs, Economy, Industry and Energy, Public healthcare, union leaders, business people and even the director of Uruguay's ballet school, the renowned Julio Bocca and first dancer Maria Noel Ricetto. The idea is to obtain sponsors to organize a tour of the US with the Uruguayan ballet.