Lima ranks as the Latin American with best reputation for making business
Monday, May 12th 2014 - 23:51 UTC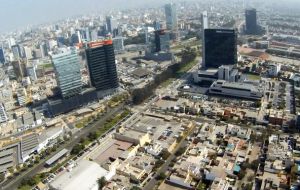 Lima, capital of Peru outstands as the leading Latin American city to make business, followed by Santiago de Chile, Buenos Aires, Argentina and Sao Paulo, Brazil, although these last two actually dropped from the previous ranking, according to an annual list made by the Bogotá Rosario University.
Lima last year was listed number four, and most probably the current advance can be attributed to the expansion of the Peruvian economy, 5%, the concession for a second metro line in Lima, the many other infrastructure plans and the growing number of trans-national and multi-Latin corporations that have moved into the city.
The Intelligence report from the Competitive Strategies Center, belonging to the Rosario University lists 51 Latin American cities taking into account a series of factors such as purchasing power; economic dynamism; financial potential, business friendliness reputation, manpower and urban comfort. The index also consults data from other rankings such as Google Business; Alexa portal; leading businesspeople from the region and the country's calendar of international fairs and business events.
"There has been a State policy from the last five governments regarding commitment to a transparent economy, fiscal prudence and freedom to make business. We're a reliable long term country", said Alfonso García Miró, head of the Peruvian Confederation of Private Enterprises, Confiep.
This can be checked by the previous rankings: in 2010, Lima was ranked 9; in 2011, 7; in 2012, 4 and in 2013 it stood firmly in position 4. However this does not mean that Lima does not have problems: contrary to other countries in the top of the list, Lima does not its own offices to attract investment, except for Pro Inversión, which is extended to the whole country.
Other factors with a negative input are bureaucracy, paperwork, red tape and a lack of tourism infrastructure according to Arellano Marketing and the Peruvian Real Estate Developers Association. Nevertheless the first place in the ranking "will help to encourage solutions to the many challenges that remain".
The business reputation index for 2014 follows, with 100 the maximum points:
1- Lima (Peru): 76,6 points.
2- Santiago (Chile): 75,3 points.
3- Buenos Aires (Argentina): 74,3 points.
4- San Pablo (Brasil): 73 points
5- Bogotá (Colombia): 68,8 points.
6- Mexico City (Mexico): 65,6 points.
7- Medellín (Colombia): 50,1 points.
8- Río de Janeiro (Brazil): 46,2 points.
9- Montevideo (Uruguay): 45,4 points.
10- Ciudad de Panama (Panama): 44,8 points.
11- Guadalajara (Mexico): 44,3 points.
12- Monterrey (Mexico): 41,9 points.
13- Quito (Ecuador): 40,5 points.
14- Córdoba (Argentina): 39,3 points.
15- Guayaquil (Ecuador): 38,4 points.
16- Cali (Colombia): 36 points.
17- Brasilia (Brazil): 36 points.
18- Mendoza (Argentina): 35,6 points.
19- Recife (Brazil): 33,8 points.
20- Caracas (Venezuela): 33,2 points.