Surprise in Argentina that Mujica should have said "Uruguayans don't go around bribing"
Thursday, May 15th 2014 - 01:01 UTC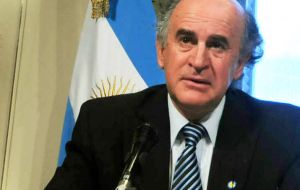 A top official from Argentine President Cristina Fernandez said that "Argentines do not bribe" and does not know why the Uruguayan leader Jose Mujica should have brought up that issue during his current visit to the United States.
Speaking to a Buenos Aires radio, Oscar Parrilli, head of the Executive Legal Office and the closest non family advisor of President Cristina Fernandez was quoted on Wednesday saying "we neither go around bribing", when asked by the repeated remarks of President Mujica in the US who said Uruguay was a decent country and "we don't go around bribing" investors and business people.
In his speech on Tuesday before 120 business people at the US Chamber of Commerce he insisted with the issue in different ways: "Uruguayans are friends of businessmen" but 'we don't sell them our souls nor do we buy their pockets", adding that Uruguay offers 'tremendous guarantees' to investors.
"We're not very hard workers, so-so; we don't exhaust ourselves working, but we are not corrupt: we don't go around bribing the business people and investors that come to the country. We are a decent country, not because of my administration; our country and our political system are decent".
However Parrilli when asked about Mujica's words seemed surprised and replied "We neither (go around bribing)" he replied and added "I don't know why Mujica should have said that".
Several members of Cristina Fernandez cabinet, current and past, as well as her vice-president, and very close family friends who are described as "straw men" face serious corruption charges, despite the fact the president has a good 'influence' over magistrates in Argentina.