Science to claim sovereignty: Argentina makes official its South Atlantic 'Blue Pampa' initiative
Friday, May 16th 2014 - 08:49 UTC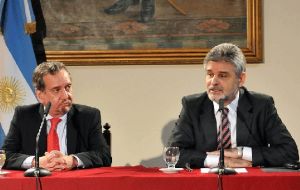 Argentina made the official presentation to foreign diplomats in Buenos Aires of its "Blue Pampa" initiative described as an effort to collect more information on Argentine maritime spaces, surrounding areas and associated ecosystems, helping to create a South Atlantic conscience in the country. Five areas have been chosen to implement the initiative including South Georgia.
"The overall purpose is to strengthen effective presence in maritime spaces under Argentine jurisdiction with an Atlantic focus and for this the initiative will promote technological innovations applicable to the sustainable exploitation of natural resources and the development of industries linked to the sea, plus creating South Atlantic maritime conscience", said Daniel Filmus, the former Senator who is now in charge of the Malvinas Affairs Office. He was supported in the presentation by Science, Technology and Productive Innovation minister Lino Barañano.
"The growing importance of maritime resources worldwide, demand for oil, the exhaustion of fisheries, the growing sea trade traffic, the increase in Antarctica tourism as well as marine contamination and climate change are additional challenges that demand a vigorous scientific activity" added Filmus.

He then described "Blue Pampa" as a national policy based on scientific research and coordinated by the State which will enable a deeper knowledge of South Atlantic echo systems so as to efficiently manage the valuable renewable and non renewable natural resources and ensure the rich biological diversity in "the Argentine maritime spaces".
The "Blue Pampa" initiative is a ten year project with scientific campaigns involving different disciplines in five main areas: the Namuncurá-Burwood bank; the Blue Hole in the continental slope; the San Jorge Gulf; sub-Antarctic marine areas which include the South Georgia and South Sandwich Islands and the Buenos Aires province estuaries.
The task will be undertaken by several scientific research vessels equipped with remote controlled submarine vehicles and a whole range of sophisticated equipments and tools for a sustained collection of data.
The first presentation of the "Blue Pampa" initiative was done by President Cristina Fernandez last 21 April and as informed then, it will be multi-disciplinary involving ministries, special departments, academia and science organizations.