Setback for Cristina: federal court declares Iran/Argentina memorandum unconstitutional
Friday, May 16th 2014 - 09:16 UTC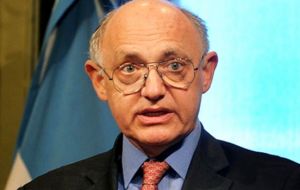 An Argentine Federal court on Thursday struck down the memorandum of understanding between Argentina and Iran to jointly investigate the deadly 1994 bombing of a Buenos Aires Jewish community center that local courts blamed on Teheran.
Alberto Nisman, a prosecutor who oversaw an investigation of the AMIA center explosion that killed 85 people, had argued in his appeal to the court that in negotiating the 2013 deal with Iran, the executive branch had overstepped into areas reserved for the judiciary.
Thursday's ruling declared the agreement unconstitutional and ordered Argentina not to go ahead with it. The deal had been delayed anyway by Iranian reluctance to move forward in implementing it.
The government said it will appeal the ruling to Argentina's Supreme Court. The memorandum was passed in Congress following a long acrimonious debate with only the government's majority supporting the bill.
"We have notified the government of Iran of our decision to appeal," said Argentine Foreign Minister Hector Timerman. "If the lower court's ruling is allowed to stand, it would close a concrete possibility of making the inquiries that could lead to a trial."
Justice Minister Julio Alak confirmed the government will appeal the ruling arguing it "violates National Congress and executive branch faculties."
"Foreign relations belong to Foreign Ministry and Senate jurisdiction, and constitutional interpretations are Supreme Court jurisdiction," said Alak in a press conference. He defended the memorandum and affirmed the government has always searched "for the truth in the AMIA cause."
"In 20 years, the justice system not been able to solve the AMIA cause", said the Justice Minister
Israel and world Jewish groups had denounced the "truth commission" deal with Iran, calling it a diplomatic win for Teheran that offered no benefit to Argentina. The deal would have let Iran review Argentina's investigation into the bombing.
AMIA Acting President Thomas Saieg welcomed the federal court ruling, but added: "We still have nothing to celebrate while those who carried out the attack against the AMIA go unpunished."
The AMIA bombing came two years after a group linked to Iran and the Lebanese militant group Hezbollah claimed responsibility for an attack on the Israeli embassy in Buenos Aires, which killed 29. Teheran has denied links to either attack.
In 2007, Argentine authorities secured Interpol arrest warrants for five Iranians and a Lebanese in the 1994 bombing. The court ruling reiterated Argentina's extradition requests.
News of the decision, released late Thursday night, was the latest blow suffered by President Cristina Fernandez. With a year and half to go before the end of her second and final term, the president's popularity has been hurt by a weakening economy and one of the world's highest inflation rates.