Falklands company wins prize at Brussels seafood show for third year running
Tuesday, May 20th 2014 - 09:19 UTC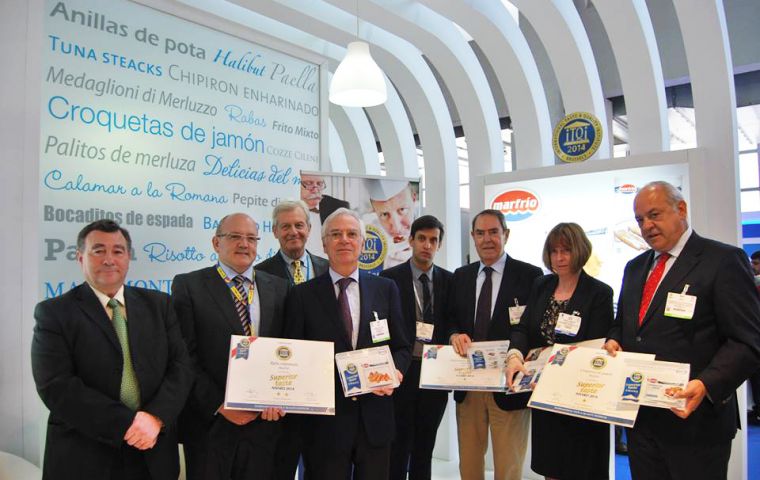 Patagonia squid caught by the Falkland Islands Beauchene Fishing Company trawlers, scored a hat trick at the Brussels Seafood Exposition this year, winning a quality taste testing award for the third year running, through marketing company Marfrio.
A delegation representing the Falkland Islands Fishing Companies Association (FIFCA) joined by representatives from South American Atlantic Services Ltd (SAAS) attended the 20th Annual Seafood Exposition in Brussels last week.
Andy Pollard, Cheryl and Brad Roberts, Stuart Wallace, Janet Robertson, Alex Reid, Eugene Hurley and Jill Ford travelled from the Falklands for the event.
The exposition lasted three days, and the Falkland Island products stimulated a lot of interest, FIFCA Executive Secretary Andy Pollard told Penguin News.
Andy Pollard said this was the first exposition where the Falkland Islands could advertise its Patagonian Toothfish as being Marine Stewardship Council (MSc) accredited.
The MSc is an independent non-profit organization which sets a standard for sustainable fishing. Fisheries are assessed by a team of experts who are independent of both the fishery and the MSc.
Seafood products can display the blue MSc eco-label only if that seafood can be traced back through the supply chain to a fishery that has been certified against the MSC standard
Andy Pollard said that after good fishing seasons for both Illex and Loligo squid, interest from visitors to the stand was strong and there was also significant interest in the Falklands finfish products, such as Kingclip, Hake, Hoki and Rock Cod, particularly from the Eastern European nations.
"Whilst this show is an excellent platform for meeting both those involved in the fishing industry directly and also the logistics partners of the fishing industry, it is also another opportunity to represent the Islands overseas and communicate with a wider International audience," said Mr. Pollard.
The trade fair covered 1.2 million square feet of exhibits which included fishing companies, buyers and sellers, processors and manufacturers of equipment, to name but a few.