FIFA demands second test for the recently opened Sao Paulo stadium
Thursday, May 22nd 2014 - 01:07 UTC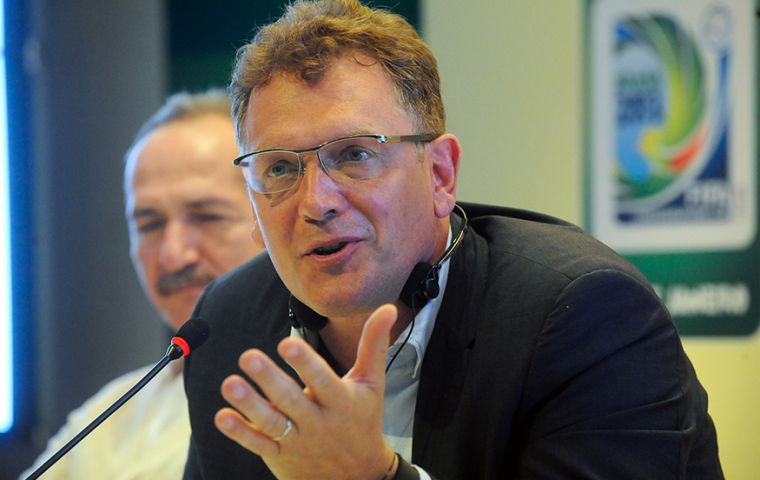 FIFA has demanded Brazil's World Cup organizers stage one final test event at the Sao Paulo stadium staging the June 12 opener. The Brazilian league schedule has been re-jigged to accommodate Corinthians match against Brazilian champions Cruzeiro at the 68,000-seat Itaquerao, which is still unfinished, on June first.
The match will be played at 5pm local time to emulate conditions for the Brazil v Croatia FIFA tournament curtain-raiser in three weeks.
It was thought the Corinthians vs Figueirense league match last Sunday would be the last test of stadium operations. But with only 40,000 fans in attendance because more than 20,000 temporary seats had not been installed, FIFA wanted the venue tested at full capacity.
FIFA No.2 Jerome Valcke is touring the 12 World Cup host cities one more time "to see that the finishing touches" are mostly finished.
Valcke tweeted that Sao Paulo's Arena Corinthians "still needs 100% from everybody to guarantee necessary structures are in place" for the opener.
Starting on Wednesday, the 12 host stadiums will be handed over to the Brazil 2014 organizing committee.
In his latest column on FIFA.com, the secretary general said Sao Paulo's venue would be the first on 21 May, with Curitiba, Natal and Salvador on 22 May the last.
On 28 May, Australia will become the first of the 31 foreign teams to arrive in Brazil.
"We have busy days ahead of us with still a lot to be done in a collective effort by FIFA, the LOC, the federal government, the host cities and states," he said.
"Our operational teams have begun fanning out to the venues for the final installations such as media tribunes, broadcast compounds - the places where the TV stations from all over the world set up their temporary offices, the satellite parks to ensure that the images are transmitted around the world, the hospitality catering tents, all established with the look and feel of the FIFA World Cup."
Valcke also dismissed media headlines "screaming that Brazilians don't want the World Cup".
"This is not reflected in public opinion polls or by what we have witnessed on the ground in Brazil during the ongoing FIFA World Cup.
"Some 300,000 people have so far stood in line to gain a glimpse of football's most coveted prize - the FIFA World Cup Trophy - during its tour of Brazil's 27 states, which will continue until 1 June. Surely that shows a groundswell of support for the 2014 FIFA World Cup.
"This is reinforced by the 11 million-plus ticket requests made to date: a figure unprecedented in the event's history. You can feel the mounting anticipation among the 32 teams and football fans in Brazil and around the globe."
He added: "The FIFA World Cup has already arrived in Brazil. And the whole world is watching in anticipation. Over the next eight weeks we are now together to make this story which started seven years ago, a success story for all of us: Brazil and FIFA."