Uruguay's FDI equivalent to 5% of GDP and mostly in alternative energies, said Eclac report
Saturday, May 31st 2014 - 06:08 UTC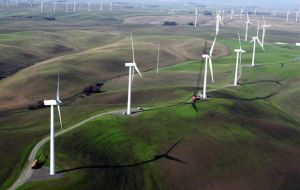 Foreign direct investment in Uruguay totaled 2.79bn dollars last year, which is slightly higher than the 2.68bn of 2012, equivalent to 5% of GDP, according to the latest report on FDI for the region from the UN Economic Commission for Latin America and the Caribbean.
"The level of FDI received by Uruguay is very high for the region, equivalent to 5% of GDP in 2013. New capital contributions make up 62% of FDI while 30% is reinvestment and the rest in loans among companies" says the ECLAC report on Uruguay.
The 2012 data indicates the beginning of a recovery of investment in public services which that year increased on average from 16 million to 117 million dollars. The increase in consistent with the promotion that the Uruguayan government has done for investment in wind farms and the robust reply from that sector, says the report.
"French Akuo Energy for example has two main wind farm projects in construction which are demanding 205 million dollars; Spain's Abengoa is building a similar 70MW plant investing 165 million and Corporation America, from Argentina has plans to spend 210 million dollars in two similar wind farm projects".
At the end of the day, in 2014 the wind energy projects will have a joint capacity of 550MW. Likewise the bidding process for several solar energy projects are in process, and these should consolidate an estimated 300 million dollars.
Finally besides energy, the issue most relevant issue regarding investment in Uruguay refers to the "controversy regarding the proposal for the iron ore mining project in Aratirí, presented by Zamin international, with main offices in London, according to the report.
Once completed the alternative energy projects, Uruguay's power matrix should depend approximately 30% on these new undertakings. Uruguay has a majority of hydro energy, but as consumption increases it has become increasingly dependent on fossil sources of which the country in a net importer.