Uruguay ready to receive Guantanamo prisoners and displaced Syrian children
Wednesday, June 4th 2014 - 09:14 UTC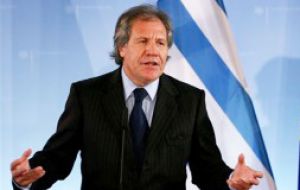 Uruguayan government negotiations with Washington to receive detainees from the US jail in Guantanamo base, and with the UN to host Syrian children and their families are well advanced, revealed Foreign minister Luis Almagro.
Apparently six Guantanamo prisoners will travel to Uruguay as refugees in the near future while ACNUR, the UN agency that deals with refugees will be selecting a group of 120 Syrian children, victims of the civil war, which should be arriving in the country in two months time.
"Uruguay has always received refugees" underlined Almagro.
Uruguayan officials believe that in two weeks time they will have all the logistics and conditions for hosting the children ready and once finished will be presented to ACNUR for the final discussion.
The following step is for UNHCR to select the families, among the most vulnerable, including orphans or accompanied by adults: The group will be coming supported by teachers, interpreters and doctors to facilitate their settlement in Uruguay.
"We estimate 120 people and we are trying they arrive as soon as possible, but we depend on international circumstances" admitted Almagro.
Regarding the Guantanamo prisoners the situation does not have a definitive date.
"We made a proposal with Uruguay's conditions, particularly those referred to the legal framework to facilitate the arrival of those illegally detained in Guantánamo and that is currently on the US State Department desk".
Almagro said he could not advance further since "the specific instruments to receive the prisoners must be considered once the US authorizes their exit from the base in Guantanamo".
He added that in principle "we are talking of six prisoners, closely chosen by Uruguay based on their records, but this also needs to be considered".
"These events are a historic continuity for Uruguay which since the XIX century has always been open to refugees from all over the world; it does not matter where they come from , Uruguay has the same standing policy on the issue", concluded Almagro .